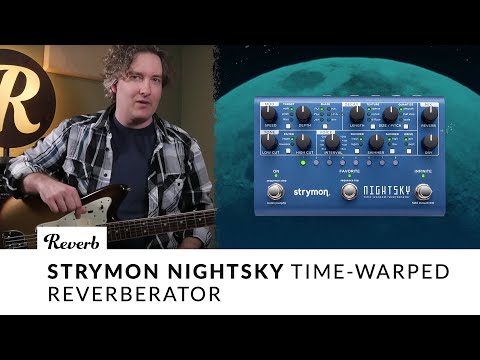 Time-Warped Reverberator.
Create vast soundscapes with just a few notes from your instrument. Apply mind-bending pitch and harmonic manipulation to your reverb tails, with synth-like filter sweeps. Enter a world of new sounds that blow away the boundaries of what is possible with reverb. With pioneers and adventurous sonic explorers in mind we created a reverb pedal that can go where none have gone before.


Reverberant Synthesis Machine.
NightSky is a reverberant synthesis workstation, and a powerful, hands-on experimental sound design platform. NightSky gives you real-time continuous control of reverb pitch/processing rate/core size, harmonics, and even a synth-like resonant filter with multiple modulation waveshapes, plus a step sequencer with variable glide. You haven't heard a pedal like this before.


The Rules of Space and Time Have Been Rewritten. New Sonic Territory.
NightSky is a reverb pedal you will want to get your hands on. Deep and powerful sound manipulation with instant response knob-tweaking and no menu diving set a new standard in experimental reverb sound design.


Warp Core Reverb.
NightSky achieves some of its most mind bending sounds by using a Variable Process Rate for its reverb core, allowing you to simultaneously change the size of the reverb as well as the pitch. This pitch change can be completely smooth, or quantized to a variety of musical scales. And it can be sequenced.


Harmonic Sculpture Machine.
Use Shimmer to shift the harmonic structure by selectable musical intervals. Add Glimmer to dynamically enhance the harmonic spectrum. Turn up Drive to generate saturated overdriven harmonics. Then sculpt the resulting signal with NightSky's synth-like variable-resonance low pass filter.


Features Instant Access to 16 Presets.
NightSky gives you instant front panel access to 16 presets. Of course, if 16 is not enough, 300 preset locations are available via MIDI.


Core of your MIDI Rig.
With full MIDI control of every parameter plus 300 preset locations, NightSky is designed to be the center of sonic expressiveness for your MIDI pedalboard. Control sequencer tempo and pitch via MIDI. Modulate NightSky's filter with beat-synced modulation envelopes from your DAW. Let NightSky provide the inspiration, and the possibilities are as unlimited as your imagination. NightSky transmits and receives MIDI over 5-pin DIN, USB, and even the Expression jack (via our MIDI EXP cable)—perfect for your pedalboard or in your studio.


Morphing expression control.
Connect an expression pedal and enjoy a whole new level of instantaneous, continuous control. Set as many knobs as you like for the heel position and toe position of your expression pedal, and all settings will simultaneously morph throughout the full range of the expression pedal.


Dedicated Instrument/Line Input Level Switch.
NightSky offers an input level switch to work perfectly with a variety of input sources. Set the switch to the INST position when using a guitar level input. Set to LINE when using NightSky in the effects loop of a guitar amp, or when driving NightSky with a hot output from a synth or mixer insert. The LINE input mode gives you an additional 10dB of clean headroom, and is also perfect for using NightSky as a send effect or insert effect in the studio.


Additional Control with MultiSwitch Plus.
Connect MultiSwitch Plus to NightSky's Expression Pedal jack for additional footswitchable control. Use MultiSwitch Plus to instantly select between three presets, or scroll through the 16 onboard presets and engage or bypass the preset you have selected. Or set MultiSwitch Plus to individually engage or bypass the MOD, TONE, or VOICE sections of NightSky.


Specifications Sound Design
Three selectable reverb types offer a wide variety of ambient textures
MOD section with various waveforms to modulate the reverb or tone filters
TONE section to sculpt the high and low EQ of the reverb
VOICE section to enhance the aural spectrum of the reverb
Adjustable SHIMMER for adding pitch shifting of up to +/- 1 octave to the reverb
GLIMMER dynamically enhances high or low frequency harmonics for synth-like textures
Pre or Post DRIVE to add saturated overdriven harmonics to the reverb
Adjustable reverb core size to increase or decrease the space for reflections
Independent REVERB and DRY level controls
Step sequencer for programming rhythmic pitch variations of the reverb
Access to 16 presets from the front panel and 300 presets via MIDI


Ins, Outs, and Switches
High impedance ultra low-noise discrete Class A JFET preamp stereo inputs
Low impedance stereo outputs
Input Level switch allows for both instrument and line level signals
On, Favorite, and Infinite footswitches
Expression pedal input allows the connection of an expression pedal, MultiSwitch Plus, or 1/4" to MIDI cable
Full featured MIDI in/out supporting MIDI CCs, program changes, MIDI clock sync and more
USB jack for controlling via MIDI from a computer or for performing firmware updates


Audio Quality
Analog dry path for a zero latency dry signal that is never converted to digital
Premium JFET analog front end
Ultra low noise, high performance 24-bit 96kHz A/D and D/A converters
provide uncompromising audio quality
Super high performance SHARC DSP
32-bit floating point processing
20Hz to 20kHz frequency response
Audio Input Impedance: 1M Ohm
Audio Output Impedance: 100 Ohm


More
True Bypass (electromechanical relay switching) or selectable transparent Analog Buffered Bypass
Strong and lightweight anodized dark blue aluminum chassis
9V DC power supply included
Power requirements: maximum 9 volts DC center-negative, with a
minimum of 300mA of current
Dimensions: 4.5″ deep x 7″ wide x 1.75″ tall, 114.3 mm deep x 177.3 mm wide x 44.5 mm tall
Designed and built in the USA
Condition
Brand New (New)

Brand New items are sold by an authorized dealer or original builder and include all original packaging.

learn more

Brand
Model

NightSky Time-Warped Reverberator

Categories
National City, CA, United States