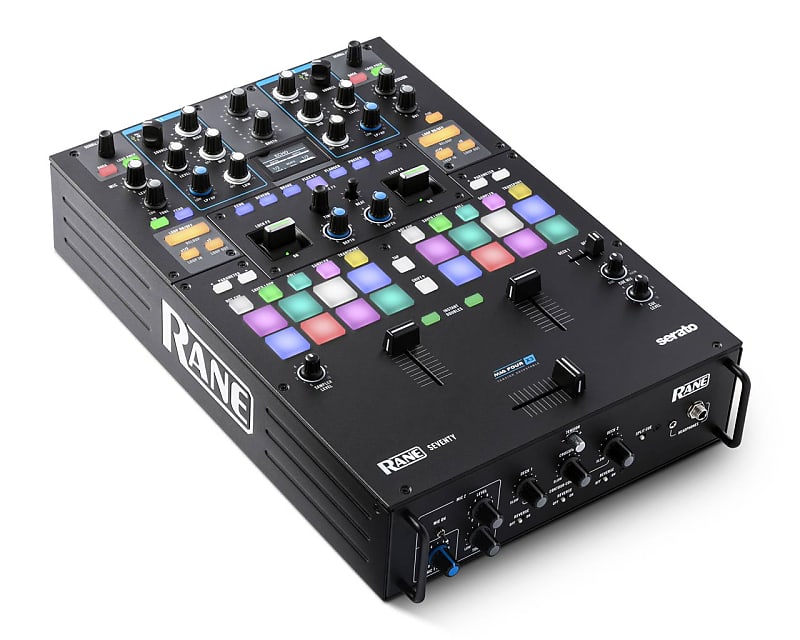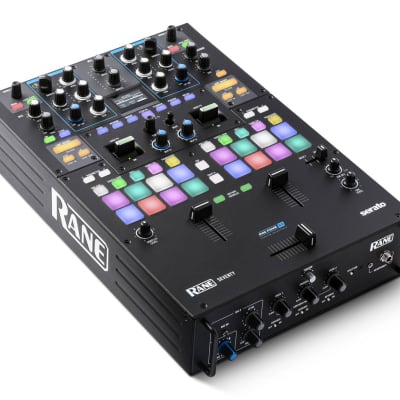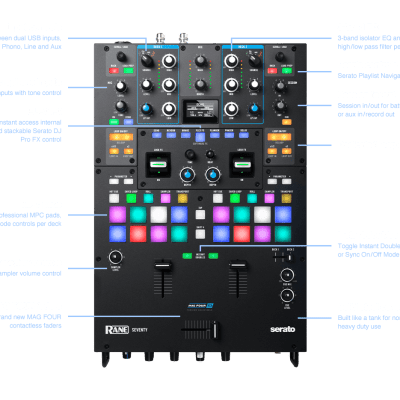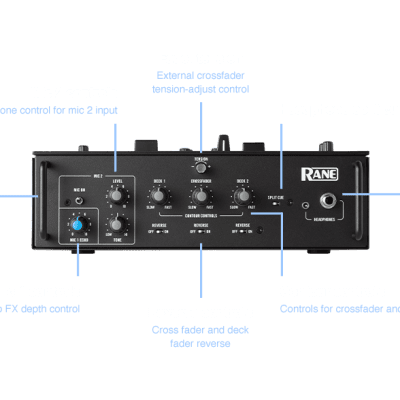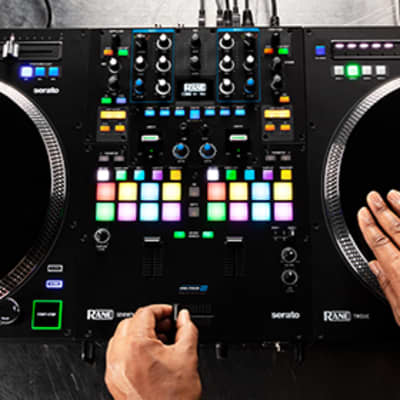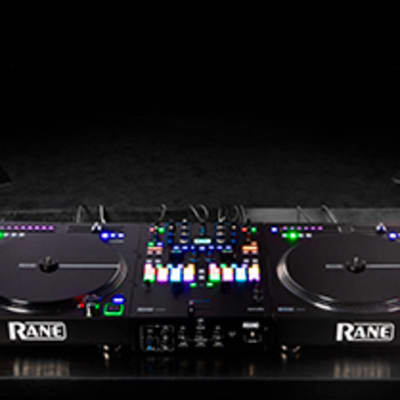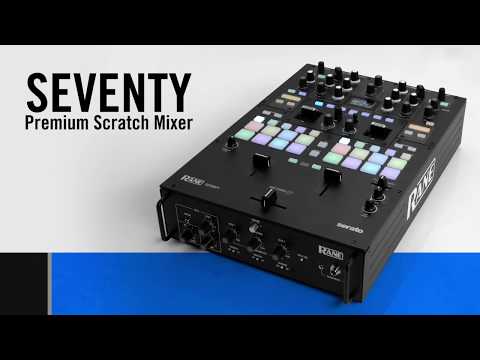 Refurbished by and ships directly from RANE with Warranty!

RANE DJ SEVENTY ‰Û¡ÌÝåÁÌÎÌÌ´ÌÌÎÌ_ÌÎÌÎÌ_ÌÎå´ Two Channel DJ Mixer for Serato DJ with Akai Professional MPC Performance Pads Internal DJ FX and Three Contactless MAG FOUR Faders!!!

Same DNA, Intuitive Layout Introducing the RANE DJ SEVENTY Serato DJ Mixer
Introducing the SEVENTY, the latest addition to RANE‰Û¡ÌÝåÁÌÎÌÌ´ÌÌÎÌ_ÌÎÌÎå«Ì´Ìös solid steel, Serato DJ battle ready DJ mixer family. Built from the same intricate DNA that makes every RANE product a standout, the SEVENTY introduces unique new features and an intuitive workflow to push DJ performances to the next level. Packed into a solid, portable mixer, the SEVENTY has the toughness for week in/week out touring, satisfying even the most demanding DJs who insist on no compromise durability, functionality and expressive creativity.
MAG FOUR Faders
In addition to an ultra intuitive layout, the SEVENTY introduces three new ultra light MAG FOUR faders. This new design is the lightest yet and delivers high quality patented technology, along with an external crossfader tension adjust.
FX, Loops & Instant Doubles
The SEVENTY‰Û¡ÌÝåÁÌÎÌÌ´ÌÌÎÌ_ÌÎÌÎå«Ì´Ìös all new layout has been engineered to put the DJ‰Û¡ÌÝåÁÌÎÌÌ´ÌÌÎÌ_ÌÎÌÎå«Ì´Ìös creative performance capability firmly in the driving seat. Six radio style DJ FX buttons give instant access to the internal post fader FLEX FX and Serato DJ‰Û¡ÌÝåÁÌÎÌÌ´ÌÌÎÌ_ÌÎÌÎå«Ì´Ìös software FX. The dual dedicated loop sections and Instant Double buttons are intuitively laid out for immediate, easy access.
Performance Pads
Center stage on the SEVENTY are 16 Akai Professional dual layer MPC pads with independent mode controls per deck including Hot Cue, Pitch ‰Û¡ÌÝåÁÌÎÌÌ´ÌÌÎÌ_ÌÎÌÎÌ_ÌÎÌn Time, Saved Loops, Sampler, Roll and Transport.
DJ Mixer Mainstays
Everything you demand from a mixer is here, perfectly positioned with your performance in mind. A 3 band isolator EQ, plus dedicated high/low pass filters per channel; Serato playlist navigation and control; dual diecast aluminum FX paddles with 180 degree rotation; a radiant OLED display for accurate visual feedback of core mixer parameters. Combine all of this with an industry leading signal to noise ratio of 114dB, the RANE SEVENTY raises the standard of DJ performance to new heights in its category.
Flexible Connectivity
With the SEVENTY, any performance scenario is covered. Two DJs can perform simultaneously and handover effortlessly via the unit‰Û¡ÌÝåÁÌÎÌÌ´ÌÌÎÌ_ÌÎÌÎå«Ì´Ìös dual USB connections. Performance driven connectivity, including switchable Phono/CD inputs per DJ deck, an RCA Aux line input per deck and an RCA Session input/output for battle teams, provides complete hook up flexibility. With balanced XLR master outputs, dual 3.5mm & ÌÎÌ_Ì´åÇ_ inch headphone outputs, and ÌÎÌ_Ì´åÇ_ inch jack booth outputs, whatever your next DJ set needs, the SEVENTY provides. Rounding out the SEVENTY‰Û¡ÌÝåÁÌÎÌÌ´ÌÌÎÌ_ÌÎÌÎå«Ì´Ìös arsenal of inputs are two switchable line/microphone combo inputs, outfitted with independent level and tone controls, plus echo level for both microphones.
Seamless Handoffs
Make complicated handoffs a thing of the past with RANE‰Û¡ÌÝåÁÌÎÌÌ´ÌÌÎÌ_ÌÎÌÎå«Ì´Ìös SEVENTY, two DJs can perform simultaneously and handover effortlessly via the unit‰Û¡ÌÝåÁÌÎÌÌ´ÌÌÎÌ_ÌÎÌÎå«Ì´Ìös conveniently located dual USB connections. Are you seeking the authentic DJ experience while retaining all the modern functionality your performance demands? This is your answer! SEVENTY features assignable USB controller inputs for RANE TWELVE motorized control turntable alongside input controls on each deck to switch between dual USB inputs, phono, line and aux channel inputs.

Enhance your DJ Set With The Latest Mixer from DJ Equipment Specialists, RANE 2 channel solid steel, precision performance Serato DJ mixer with an intuitive high performance layout
New Patented Fader Technology Three ultra light MAG FOUR contactless faders (two channel faders, one crossfader) with external crossfader tension adjustment control
DJ FX, Loops & Instant Doubles Six dual post fader internal FLEX FX engines; Serato DJ FX controls; Instant Double buttons (toggle as Sync On Off or Silent Cue mode); Dedicated loop controls
Add Some Flair to Your DJ Mix 16 Akai Professional dual layer MPC pads with independent mode controls per deck including Hot Cue, Pitch ‰Û¡ÌÝåÁÌÎÌÌ´ÌÌÎÌ_ÌÎÌÎÌ_ÌÎÌn Time, Saved Loops, Sampler, Roll and Transport
Future Proofed DJ Mixer Mainstays Two diecast aluminum 180ÌÎÌ_Ì´Ìâ_ rotatable FX paddles; RANE TWELVE Connection Hub; Two microphone inputs; Two USB connections for seamless DJ handoffs
Condition
B-Stock (Used)

B-Stock items are sold by an authorized dealer or original builder, but have been opened, blemished, or used in some manner.

learn more

Brand
Model
Categories