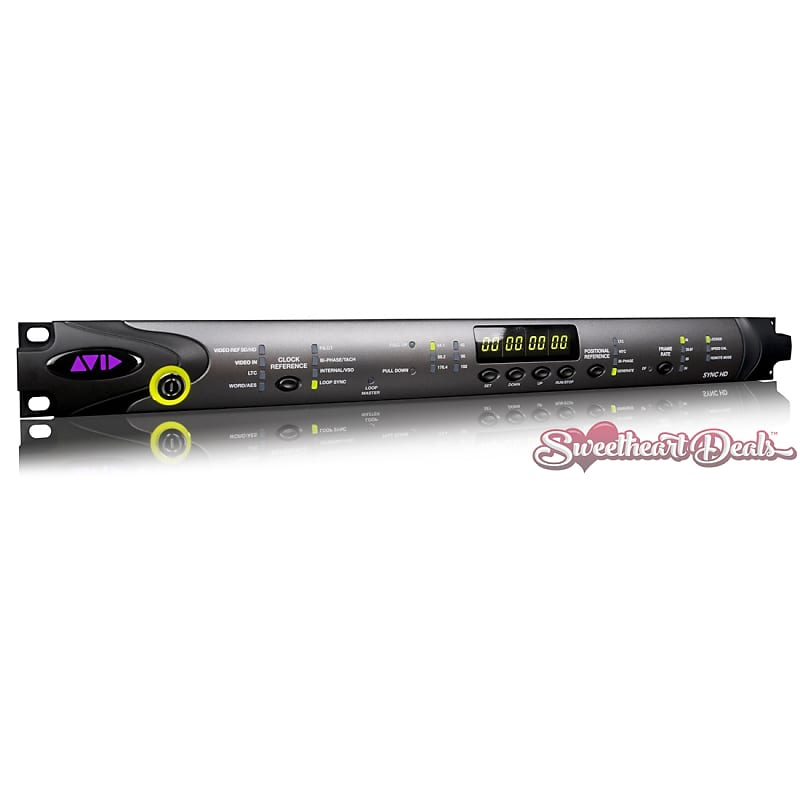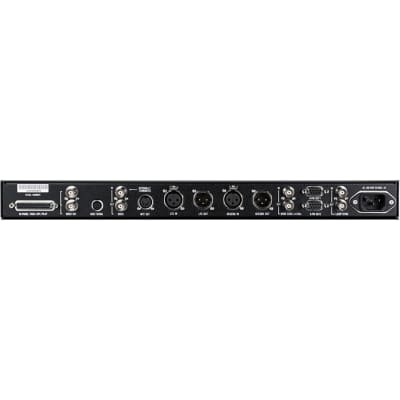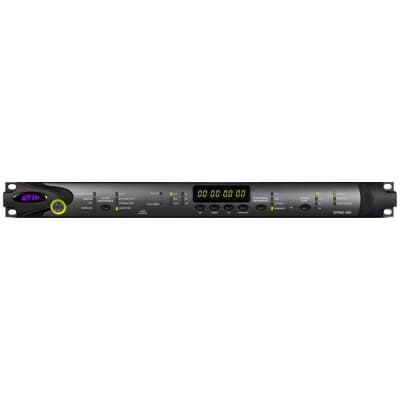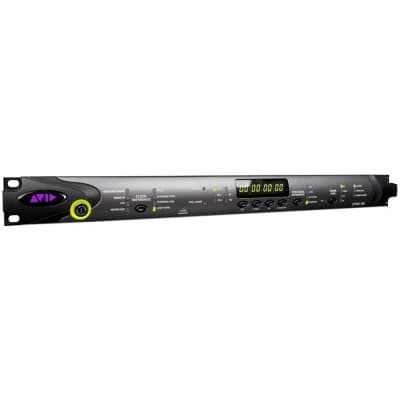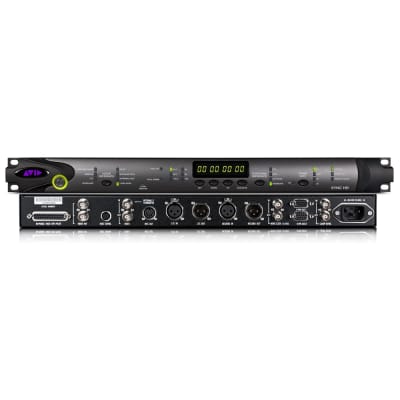 Authorized Dealer! - Full Factory Warranty!

Avid Technologies Sync HD Master Clock
High fidelity, low-jitter master clock
Near sample-accurate lock to timecode or bi-phase signals
Word clock I/O up to 192 kHz capable
Supports all major industry-standard clock sources and timecode formats
Supports SD and HD video reference input (tri-level sync) up to 1080p / 60 fps
Supports standard pull-up/pull-down rates for film/video
Video input with timecode window inserter
Keep your Pro Tools rigs and other connected gear in sync - no matter how massive your media production. Designed for Pro Tools HD systems, Pro Tools SYNC HD is the excellent low-jitter master clock, providing near sample-accurate lock to serial timecode. It's a must, when working with large-scale music and soundtrack productions. If you have multiple audio interfaces and digital devices in your studio, SYNC HD offers the stability, consistency, and reliability you need to keep everything running smoothly. And with its affordable cost, commanding precision is even easier than ever.
Connect your sources
SYNC HD provides a wide variety of connections to sync your gear. Get all of the usual suspects to connect to NTSC/PAL sources, digital audio signals and MachineControl-enabled systems.
Set the clock
Easily select SYNC HD's clock reference with just the press of a button. The interface supports all major industry-standard clock sources.
Choose your frame rate
Select the timecode frame rate and format (drop-frame or non-drop-frame) with a simple button press. You can scope your current rate by the lit LED indicator or a flashing LED indicator. And the "DF" LED will light to indicate drop-frame formats.
See and take control
View incoming timecode, as well as various function settings, on the multifunction LED display. See timecode displayed in hours : minutes : seconds : frames. Or use the controls below the display to configure timecode generator settings, PAL/NTSC selection, sample rate, and more while viewing those modes, parameters, and settings on the LED.
Features
Near Sample-Accurate, lock to time code or bi-phase/tach signals (When integrated with the host software)
High-Fidelity, Low-Jitter Clock
Supports All Major Industry- Standard Clock Sources
Supports All Industry-Standard Time Code Formats
Supports Industry Standard Pull- Up/Pull-Down Rates for Film/Video Integrated Support in AudioVision 4.0
Supports SD and HD video reference input (tri-level sync) up to 1080p/60fps
Integrated Support in Upcoming Pro Tools Release
Easy to Control through Front Panel or Software
Includes Insertable Window-Burn
Sony 9-Pin connectors for machine control communication from the supported host software (When integrated with the host software)
SMPTE Input; -24 to +20 dBu; 200K ohms; balanced female XLR
SMPTE Output: -24 dBu to +9 dBu;<5Kohms; Balanced male XLR
VITC Input (Vertical Interval Time Code): Lines 10 to 40 (all-line) or 10 to 22 (single-line)
VITC Outputs: 2 lines, lines 10 to 20
Word Clock Input/Output: 1x sample rate TTL level
Super Clock Input/Output (Slave Clock): 256x sample rate; TTL level; BNC female connector
Video Sync Inputs: NTSC/PAL formats
AES-EBU Digital Audio Input (AES null): 5 V p-p; 110 ohms; Balanced female XLR
AES-EBU Digital Audio Outputs (AES null): 5 V p-p; 110 ohms; balanced male XLR
Bi-phase/Tach Input: 0 to 76.8kHz frequency; 3-5.5 V opto-isolated; 10 mA max; 2-255 modulo; programmable polarity
Pilot Input: 50/60Hz nominal frequency; 100 mV to 5.5 V
Resolver Inputs: Word Clock, Super Clock, Video Sync, LTC, AES-EBU, Bi-phase/Tach, Pilot Tone
PC connection: RS-232 serial port; 25-pin D-subminiature female connector
Macintosh connection: Mac serial format; 8-pin mini DIN female connector
MTC Output: 15 mA current loop; 31.25 Kbaud
Nominal Output Sample Rates: 44.1kHz; 48kHz; 44.056 (44.1kHz pull-down); 47.952kHz (48kHz pull-down); 44.144kHz (44.1kHz pull-up); 48.048kHz (48kHz pull-up)
Machine Control support (requires Machine Control option)
Tech Specs
Sample Rate 192kHz Clock Inputs 1 x Word (BNC), 1 x AES/EBU, 1 x LTC (XLR), 1 x Video (BNC), 1 x Loop Sync (BNC) Clock Outputs 1 x Word (BNC), 1 x AES/EBU, 1 x LTC (XLR), 1 x Video (BNC), 2 x Video Ref (BNC) Other I/O 1 x MTC Output (5-pin DIN) Pull Up/Down 0.1% and 4% Rack Spaces 1U Height 1.75" Depth 10.63" Width 19" Weight 7.81 lbs.
Thank you for shopping with us!
If you have any questions about your order, please message us!
Sweetheart Deals
Condition
Brand New (New)

Brand New items are sold by an authorized dealer or original builder and include all original packaging.

learn more

Brand
Model

SYNC HD Pro Tools Synchronizer

Categories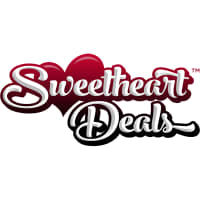 Spencer, MA, United States