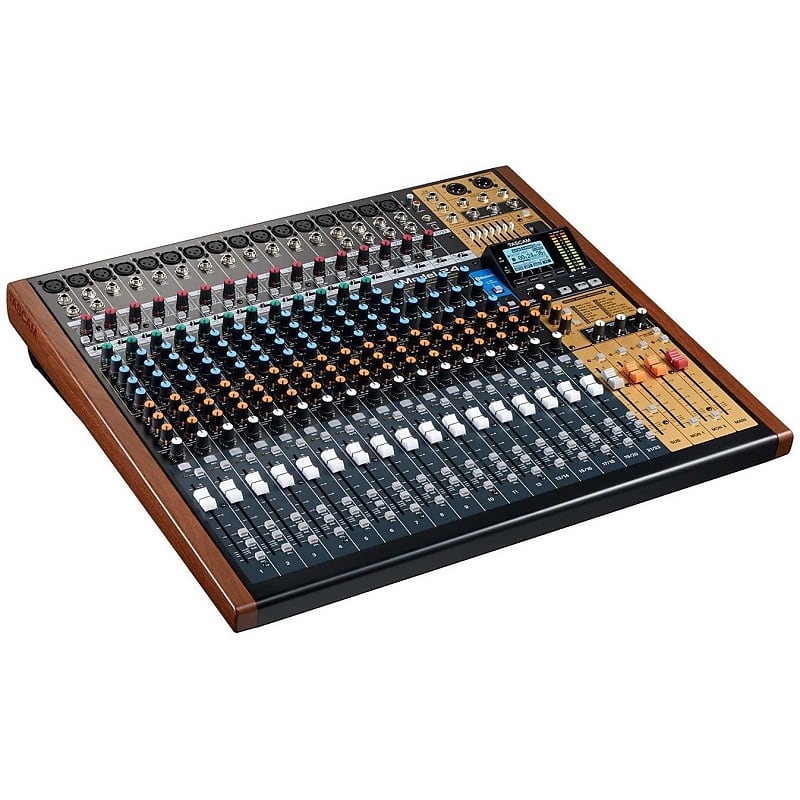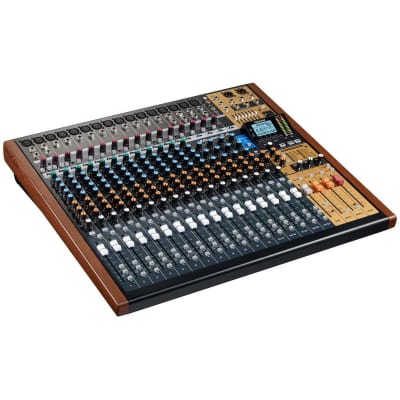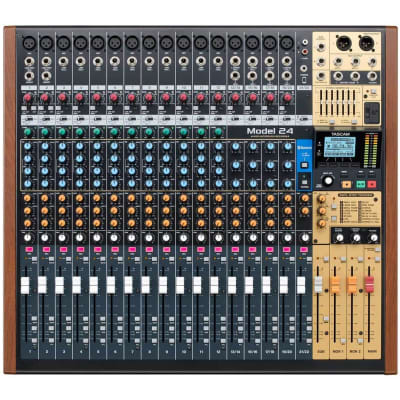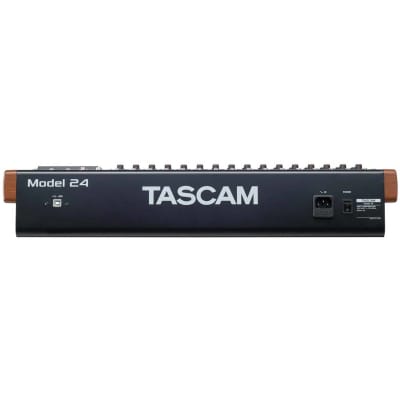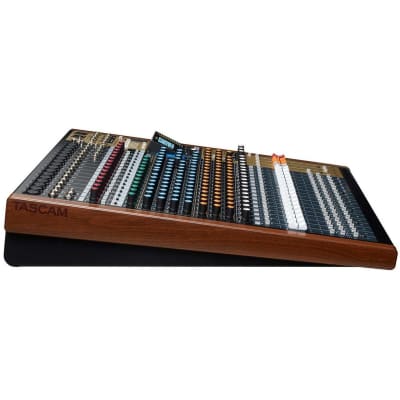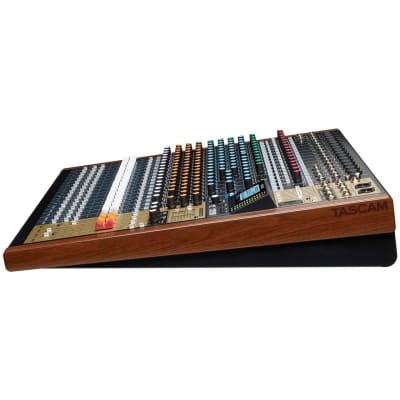 Tascam Model 24
The Tascam Model 24 is a 22-channel analogue mixer with a built-in 24-track digital recorder. Perfect for production and live recordings, the Tascam Model 24 is provides a multi-track recorder, mixer, and audio interface. A true hybrid console featuring the latest digital technologies alongside physical channels featuring 100mm physical faders, 3-band sweepable EQ and aux send knobs.
The multitrack function of the Model 24 allows users to to directly record to an SD card, 24 tracks simultaneously in 24bit/48kHz, and it is capable of punching in/out 8 tracks at the same time. The console can directly playback 22 tracks simultaneously from an SD card. A built-in USB 2.0 audio interface enables the same functionality of 24 track recording and 22 track playback from your Mac or Windows computer.
16 high-grade microphone preamps are available to help obtain the best recordings possible whether in the studio, rehearsal room or at a live show.
One-knob compressors (on selected channels), flexible routing, powerful EQ and silky-smooth 100-mm faders combine to deliver a truly dynamic, real-time mixing experience. Combine this with a 7-band EQ, dual monitor sends, and on-board effects making the Model 24 a powerful portable mixing solution.
Channel Design
Designed for use on the road and in the studio, The Model 24 features four different channel strip configurations. The first two channels feature both an XLR input as well as a switchable line/instrument level jack input. These are followed by a TRS Insert connector for easy patching of a compressor, EQ or other effects. Next are the preamp gain controls (with overload indicator LED), switches for a 100-Hz low-cut and the line/instrument level select switch.
These are followed by the routing mode selector, which is common to all channels and allows input assignment selection of your choice - the live incoming signal, the return from a DAW channel or the return from the internal multi-track recorder to each channel for EQ, processing and level control. Worth noting is that the low-cut switch and the one-knob compressor are both wired into the signal path prior to the routing mode selection. This ensures that recorded tracks take full advantage of the low-cut and compressor setting features.
Directly below this selector, and common to the first 12 channels is a one-knob compressor that helps to quickly and easily tame dynamics during a live performance. Also common to the first 12 channels is a musical 3-band EQ with a sweepable midrange frequency.
Following the EQ section are a set of three auxiliary sends labeled Monitor 1, Monitor 2 and FX, providing additional routing to foldback systems and effects. Next up is the fader section which is consistent across the entire mixer. This roomy control area boasts a Pan control, a backlit Record Enable switch and Mute button with an LED indicating engagement. Below these the Model 24 features a full set of 100-mm level faders and individual selector switches for assignment to the main mix, the sub group and pre fade listen. Once again, these are common to all channel strips.
Channels 3–12 have been streamlined to feature XLR microphone and 6.3-mm line-level inputs.
Channels 13/14 – 19/20 are configured as stereo input channels and feature an XLR microphone input as well as dual 6.3-mm stereo inputs, with the left input summing to mono if the right input connector is unused. As these channels will typically be used for keyboards, drum machines, modular synthesizers and effects processors, the audio controls have been simplified to remove the one-knob compressor and to feature an intuitive fixed three-band EQ.
The final channel configuration – channel 21/22 has been optimised for use with mobile devices and features either stereo RCA and mini-jack inputs as well as Bluetooth™ pairing. This channel has also been optimised to feed Monitor 1 and Monitor 2 via rotary auxiliary send controls.
Tascan Model 24 Features
Mixer features
22 analogue inputs
16 TASCAM Ultra-HDDA microphone preamps with switchable phantom power (48 V) on 12 mono and 4 stereo channels
Two high-impedance instrument inputs (channels 1 and 2)
20 balanced line inputs (12 mono, 4 stereo)
One multi-purpose stereo channel for input from Bluetooth, RCA connectors or stereo mini-jack connector
Inserts on input channels 1 and 2
Main stereo bus, sub stereo bus, two aux/monitor buses, effects bus
1-knob compressor for channels 1–12
3-band equaliser with sweepable mids for 12 mono channels, fixed mids on 4 stereo channels
Switchable low-cut filter for 12 mono and 4 stereo channels
7-band graphic stereo equaliser – can be used for main stereo bus or aux/monitor bus
Built-in Bluetooth receiver for wireless playback
On-board effects processor
16 preset effects types
Can be used on 12 mono and 4 stereo channel sends to sub bus and main stereo bus
Can be turned on/off by an optional footswitch (Tascam RC-1F)
Large 100-mm faders for precise level adjustments
XLR balanced outputs for main stereo bus
TRS balanced outputs for sub, control room, aux 1 /2 and effects send
Headphones output with level control (80 mW + 80 mW)
Recorder features
Tascam multi-track recording engine
Uses SD cards as recording media (up to 128 GB)
Up to 24 tracks (22 input channels + stereo mix) can be recorded without the need for a computer
Recording format: Linear PCM (WAV format, 44,1/48 kHz, 16/24 Bit)
Playback formats: WAV, MP3
Overdubbing, punch in/out recording (eight channels maximum)
Multi-track playback for advanced live performance
Audio interface features
USB 2.0 audio interface for use with Windows (ASIO) and Mac (Core Audio) computers
Transfer to computer: 24 channels (all 22 inputs + stereo mix)
Transfer from computer: 22 channels, assignable to each channel input
Audio resolution 44.1/48 kHz, 16/24 bit
Specifications
Recorder
Recording media:

SD (512 MB – 2 GB)
SDHC (4–32 GB)
SDXC (64–128 GB)

File system: FAT16 (SD), FAT32 (SDHC), exFAT (SDXC)
Recording file format: WAV
Playback formats: WAV, MP3
Sampling frequency: 44.1 kHz, 48 kHz
Bit depth: 16 bit, 24 bit
Recordable channels: 24 channels max. (22 channels + stereo mix)
Audio inputs and outputs
Microphone inputs (CH 1–13,15,17,19): XLR-3-31, balanced (1: GND, 2: HOT, 3: COLD)

Maximum input level: +10 dBu
Nominal input level: –8 dBu
Minimum input level: –58 dBu
Gain adjustable range: 0–50 dB
Input impedance: 1.8 kΩ

LINE inputs (CH 1–20): 6.3-mm TRS phone jack, balanced

Maximum input level: +22 dBu
Nominal input level: +4 dBu
Gain adjustable range:

–10 dB to +40 dB (CH 1–12)
–20 dB to +30 dB (CH 13/14 to 19/20)

Input impedance: 22 kΩ

INSERT (CH 1–2): 6.3-mm TRS phone jack (Tip: Send, Ring: Return, Sleeve: GND)

Nominal input level: 0 dBu
Maximum input level: +18 dBu
Input impedance: 10 kΩ
Nominal output level: 0 dBu
Maximum output level: +18 dBu
Output impedance: 100 Ω

STEREO inputs (CH 21–22): RCA pin jack, unbalanced. 3.5-mm stereo mini jack, unbalanced

Maximum input level: +8 dBV
Nominal input level: –10 dBV
Input impedance: 10 kΩ

MAIN output: XLR-3-32, balanced (1: GND, 2: HOT, 3:COLD)

Maximum output level: +4 dBu
Nominal output level: +22 dBu
Output impedance: 100 Ω

SUB OUT, MONITOR, FX OUT, CONTROL ROOM OUT: 6.3-mm TRS, balanced (Tip: HOT, Ring: COLD, Sleeve: GND)

Nominal output level: –2 dBu
Maximum output level: +16 dBu
Output impedance: 100 Ω

PHONES OUT: 6.3-mm stereo phone jack

Maximum output power: 80 mW + 80 mW (at 32 Ω)
Footswitch connector: 6.3-mm TS phone jack (Tascam genuine footswitch RC-1F recommended)
Channel EQ
Low cut: 100 Hz, –18 dB/Oct.
High (shelving): 12 kHz, ±15 dB
Mid (peaking):

variable 100 Hz to 8 kHz, ±15 dB (Mono)
fixed 600 Hz, ±15 dB (Stereo)
Q = 0.55

Low (shelving): 80 Hz, ±15 dB
Graphic EQ: 7-Band
Frequencies: 125/250/500/1k/4k/8k (Hz)
Gain: ±15 dB
Audio performance
Residual output noise: –102 dBu (MAIN OUT, MAIN fader at min.)
Equivalent input noise (EIN): –128 dBu (Mono input channel at 150 Ω, GAIN at max.)
Total harmonic distortion (THD+N): <0.01 % (MIC IN-> MAIN OUT, max. input level, 1 kHz, GAIN at min.)
Frequency response:

Analogue: 20 Hz to 30 kHz, +0.5/-1.0 dB
Digital: 20 Hz to 20 kHz, +0.5/-1.0 dB

Channel crosstalk: –80 dB (1 kHz, PAN fully counter-clockwise / fully clockwise)
Maximum gain:

74 dB (MIC to MAIN OUT)
50 dB (MIC to INSERT OUT)
74 dB (MIC to SUB OUT)
79 dB (MIC to CR OUT)
75 dB (MIC to MONITOR OUT)
75 dB (MIC to FX OUT)
24 dB (USB/SD to MAIN OUT)
(EQ flat, PAN fully counter-clockwise / fully clockwise)

Phantom Power: DC 48 V
Computer system requirements
Windows:

Windows 7 (32-bit SP1, 64-bit SP1)
Windows 8.1 (32-bit, 64-bit)
Windows 10 (32-bit, 64-bit)
Compatible computers: Windows-compatible computer with a USB 2.0 port
CPU type/speed: Dual core, 2 GHz or faster
Memory: 2 GB or more
Drivers: USB Audio Class 2.0, ASIO 2.0, WDM (MME)
Screen resolution: 1280 × 800 or more

Mac:

OS X El Capitan (10.11)
macOS Sierra (10.12)
macOS High Sierra (10.13)
Compatible computers: Apple Mac computer with a USB 2.0 port
CPU type/speed: Dual core, 2 GHz or faster
Memory: 2 GB or more
Driver: Core Audio
Screen resolution: 1280 × 800 or more

USB audio specifications

Sampling rate: 44.1 kHz, 48 kHz
Bit depth: 16 bit, 24 bit
Maximum number of audio channels: 24 inputs, 22 outputs

Bluetooth®: Version 4.0
Output class: Class 2 (approximate transmission distance: 10 m) * The transmission distance is approximate. The transmission distance could vary depending on the surrounding environment and electromagnetic disturbances.
Supported profile: A2DP, AVRCP 1.0
Supported A2DP codecs: SBC, AAC
A2DP content protection: SCMS-T
Power supply and other specifications
Power: AC 100–240 V, 50/60 Hz
Power consumption: 52 W
Dimensions (W × D × H): 576 mm × 513 mm × 113 mm (overall)
Weight: 10 kg
Permissible operating temperature range: 5–35 °C
Included items: AC power cord, Owner's manual incl. warranty
Condition
Brand New (New)

Brand New items are sold by an authorized dealer or original builder and include all original packaging.

learn more

Brand
Model

Model 24 Multitrack Recorder / Mixer / USB Interface

Finish
Categories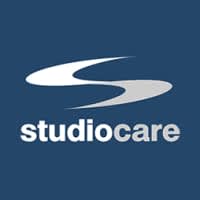 Liverpool, United Kingdom