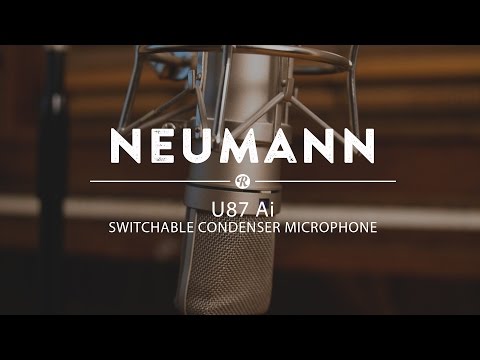 You Can't Argue With Five Decades of Perfection!
The Neumann U87 has reigned as one of the most beloved and frequently employed large-diaphragm condenser microphones for over 50 years now. It's more popular and widely used today than ever before, which is really the greatest possible testament that can given to a piece of analog audio technology. There are simply some designs that can't be beaten!

A Unbeatable Large-Diaphragm Mic
The Neumann U87Ai is equipped with a large pressure-gradient transducer with a dual double membrane capsule. Operationally, it features 3 switchable directional patterns: omnidirectional, cardioid, and figure-8. These are toggled with the switch located below the head grille.

Omni Pickup Pattern
The omnidirectional pattern on the U87 is used for situations when you want an even 360 degrees of recording within a given space. In omni mode, the U87 is a no-brainer for getting super-transparent room tone with exceptional transient response. It's a particularly awesome setting for large acoustic ensemble settings. U87s are often used as the central conductor's-eye-view microphone in orchestral recordings.

Cardioid Pickup Pattern
The cardioid setting picks up sound in a heart-shaped pattern, facing forward. This is probably the most common setting for the U87, given its longstanding fame as the end-all-be-all vocal microphone. However, you can also use this setting to excellent effect with acoustic guitars, in front of a guitar amp, on a softer kick drum, and more. The frequency response on the cardioid pattern maintains a super-smooth frequency response at a distance of 10 to 15 inches.

Bidirectional Pickup Pattern
The figure-8 configuration on the U87 picks up sound from either side of the capsule, but avoids becoming overdriven by powerful sounds up front. It is perfect when you need to get a clear but less direct sound from acoustic instruments like drums or upright bass. Its frequency response remains consistent even at a distance of 6 to 8 inches. Two U87 microphones in figure-8 mode make a killer Blumlein stereo pair for recording acoustic piano, room ensembles, and just about anything else you can imagine.

Further Adjustments to Make it Perfect
The Neumann U87 also features a 10 dB attenuation switch, located on the rear, that allows the microphone to continue working under sound pressure levels up to 127 dB without the slightest amount of distortion. The low frequency response can also be reduced, which gives you more flexibility when compensating for the low-frequency spikes that occur in all pressure gradient transducers, as a result of "proximity effect" on vocals or instruments in the studio.

Features:
- Variable large-diaphragm microphone
- Pressure-gradient transducer with double membrane capsule
- 3 direction patterns: omni, cardioid, figure-8
- Low frequency roll-off switch
- 10 dB pre-attenuation switch
- Case, shock mount, windscreen, and cable included with this package
- Acoustical Operating Principle: Pressure gradient transducer
- Directional Pattern: Omnidirectional, cardioid, figure-8 plus
- Frequency range: 20 Hz-20 kHz
- Sensitivity at 1 kHz into 1 kohm: 20/28/22 mV/Pa*
- Rated impedance: 200 ohms
- Rated load impedance: 1000 ohms
- Equivalent SPL CCIR 468-3: 26/23/25 dB*
- Equivalent SPL DIN/IEC 651: 15/12/14 dB-A*
- S/N ratio CCIR 468-3: 68/71/69 dB*
- S/N ratio DIN/IEC 651: 79/82/80 dB*
- Maximum SPL for THD 0.5%: 117 dB (cardioid)
- Maximum SPL for THD 0.5% with preattenuation: 127 dB
- Maximum output voltage: 390 mV
- Dynamic range of the microphone amplifier cardioid DIN/IEC 651: 105 dB
- Supply voltage: 48 V - 4 V
- Current consumption: 0.8 mA
- Matching connectors: XLR3F
- Weight: 500 g
- Diameter: 56 mm
- Length: 200 mm

* Omnidirectional/cardioid/figure-8

This venerable large-diaphragm condenser is a classic for a reason! You'll turn to it time and time again for voiceover, vocals, acoustic instruments and amps.

zZounds is an authorized dealer of Neumann products.
Condition
Brand New (New)

Brand New items are sold by an authorized dealer or original builder and include all original packaging.

learn more

Brand
Model

U 87 Ai Large Diaphragm Multipattern Condenser Microphone

Categories
Microphone Type

Large-Diaphragm Condenser

Polar Pattern
Wired/Wireless
Electronics
Oakland, NJ, United States