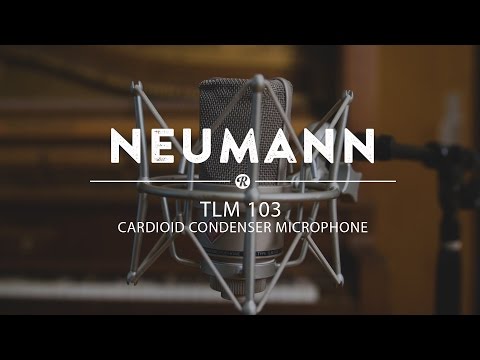 Legendary Neumann Sound on a Limited Budget!
It's not just for vocals -- the versatile Neumann TLM 103 studio microphone will let your voiceovers, guitars, and other acoustic instruments shine with "that Neumann sound" which draws audio professionals to the brand time and time again. The affordable TLM 103 is a large-diaphragm cardioid microphone featuring a transformerless circuit, low noise, high sound pressure level (SPL) handling, and a capsule based on the company's classic, significantly more expensive U87 capsule. This large-diaphragm condenser mic will do the job for a range of applications, from home recording to professional broadcasting and commercial recording studio use.

Cardioid: An Excellent Choice for Most Recording Situations
The TLM 103 boasts a large-diaphragm capsule with a universal cardioid pattern that draws in sound at the front of the microphone and rejects sound from the rear. When capturing vocals, recording instruments like the acoustic guitar, doing interviews, and so forth, a cardioid mic is often the way to go. With this Neumann microphone, off-axis sounds are rendered naturally while isolation is increased.

Looks and Sounds Like a Neumann
Its K 103 large-diaphragm capsule, based on the K 87 from the company's U 67 and U 87 microphones, has a flat frequency response up to about 4 kHz, and above that, a wide 4 dB presence boost. So that you know it's a Neumann, the TLM 103 is addressed from the front and is marked with the red Neumann logo on the body of the microphone.

The microphone keeps plosives, pops, and other unwanted noises in check, thanks to its large wire mesh headgrille, which protects the capsule. You can use a pop filter with the TLM 103 if you want, but you may not really need it unless you are exceptionally spitty when you sing or speak.

To further prevent noise from interfering with the mic's performance, the TLM 103's entire internal construction is elastically mounted. What's more, the capsule is set on an elastic mount. Since its frequency range actually reaches below 20 Hz, the lowest of low bass signals are reproduced without coloration. It's because of this low frequency extension that the TLM 103 is more sensitive to structure-borne interference and wind noise.

TLM for Transformerless Microphone
This mic features a very low self-noise level (7 dB-A / 17.5 dB CCIR), making it possible for even the smallest signals to be reproduced basically noise-free. Able to handle SPL up to 138 dB without distortion, the TLM 103 boasts a dynamic range of 131 dB, according to DIN/IEC 651.

There's a reason why the microphone is called a TLM -- its name is short for "transformerless microphone." Transformerless means that the microphone's usual output transformer is replaced by an electronic circuit. Neumann notes that as with traditional transformers, TLM technology ensures good common mode rejection and prevents RF interference that may influence the balanced audio signal.

All in all, the TLM 103 offers highly detailed, accurate sound and superior impulse response, allowing it to reproduce your music and vocals without any noticeable coloration.

Features:
- Large-diaphragm cardioid microphone ideal for capturing vocals (especially male vocals!), speech, and acoustic instruments
- Pressure gradient transducer with single-diaphragm capsule
- Elastically mounted to prevent additional noise
- Transformerless circuitry for a clean, balanced audio signal
- Extremely low noise of 7 dB-A for nearly noise-free operation
- Frequency range of 20 Hz to 20 kHz and max SPL of 138 dB
- Large wire mesh headgrille protects capsule from pops and plosives
- An affordable, capable mic for home recording and professional studios alike
- Includes swivel mount and a wooden jeweler's box
- Acoustical Operating Principle: Pressure gradient transducer
- Directional Pattern: Cardioid
- Frequency range: 20 Hz-20 kHz
- Sensitivity at 1 kHz into 1 kohm: 21 mV/Pa
- Rated impedance: 50 ohms
- Rated load impedance: 1000 ohms
- Equivalent SPL CCIR 468-3: 17.5 dB
- Equivalent SPL DIN/IEC 651: 7 dB-A
- S/N ratio CCIR 468-3: 76.5 dB
- S/N ratio DIN/IEC 651: 87 dB
- Maximum SPL for THD 0.5%: 138 dB
- Maximum output voltage: 13 dBu
- Dyn. range of the mic. amplifier DIN/IEC 651: 131 dB
- Supply voltage: 48 V +/- 4 V
- Current consumption: 3 mA
- Matching connector: XLR 3F
- Weight: approx. 500 g
- Diameter: 60 mm
- Length: 132 mm

zZounds is an authorized dealer of Neumann products.
Condition
Brand New (New)

Brand New items are sold by an authorized dealer or original builder and include all original packaging.

learn more

Brand
Model

TLM 103 Large Diaphragm Cardioid Condenser Microphone

Categories
Microphone Type

Large-Diaphragm Condenser

Wired/Wireless
Electronics
Polar Pattern
Oakland, NJ, United States