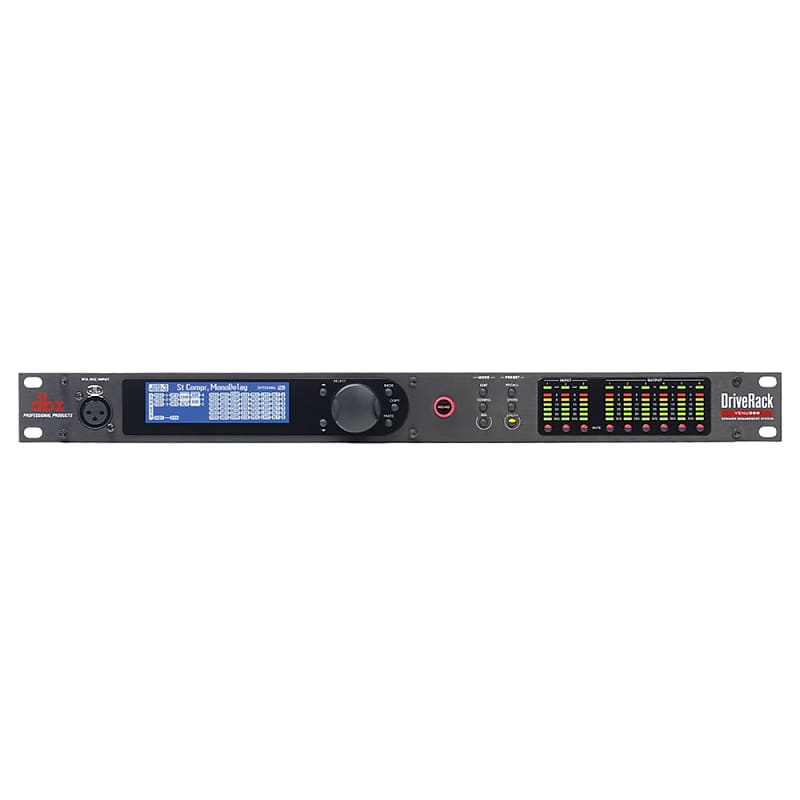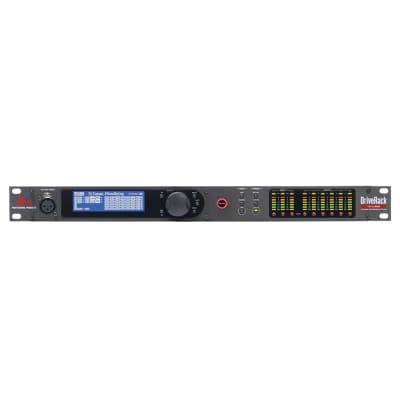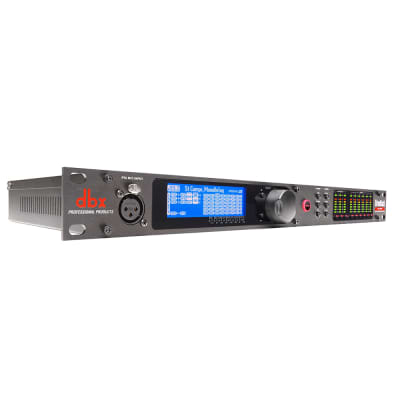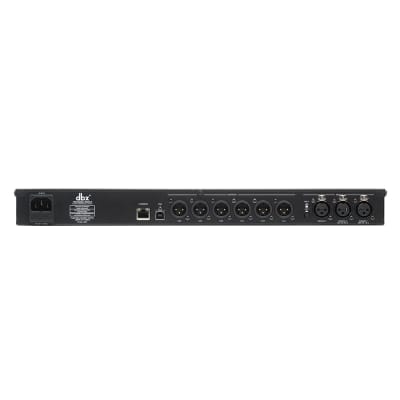 Supercharge Your Sound System with the DBX DriveRack VENU360 Complete Loudspeaker Management System
The VENU360 provides all the processing and flexibility you need between your mixer and amplifiers to optimize and protect your loudspeakers. With the latest advancements in DBX's proprietary AutoEQ and AFS algorithms, additional input channels, ethernet control via an Android, iOS, Mac, or Windows device, and updated wizards, the DriveRack VENU360 continues the DriveRack legacy of great-sounding, powerful, and affordable loudspeaker management processors, for a whole new generation.
AutoEQ
New, improved AutoEQ algorithm ensures an extremely accurate, fast, and non-intrusive automatic EQ experience.
With a RTA Mic "listening" to your room, the updated DriveRack VENU360 AutoEQ algorithm sets speaker levels and room EQ automatically in a matter of seconds using sine sweeps. This means room adjustments can now be made very quickly, without subjecting the audience to annoying, lengthy broadcasts of pink noise.
The AutoEQ is now located in the output processing stage, which means independent sections of a system can be equalized automatically. This allows AutoEQ to be used on the FOH system as well as the stage monitors, zones and tower delays!
Enhanced AFS Feedback Elimination
Enhanced AFS algorithm for faster, more precise feedback elimination, without adversely affecting your system's tone.
Nothing turns audiences away like annoying and potentially painful audio feedback. Fortunately, DBX engineers have revisited their already-stellar Advanced Feedback Suppression algorithm and made it work even better. The DriveRack VENU360 listens for and anticipates feedback and automatically removes it before it even has a chance, while never altering your sound.
Updated Wizard Setup Functions
Updated Wizards make initial set up easy, while ensuring speaker tunings and other settings are up-to-date.
Wizard functions in the DriveRack VENU360 guide you through easy, step-by-step processes to help you get the most from your loudspeaker system. The Wizards help you configure routing, level balancing, AutoEQ, Advanced Feedback Suppression, and provide access to updated speaker tunings – available for most major speaker brands. The addition of a Monitor Wizard makes it easy to configure and optimize stage monitors.
Mobile Control
Connect to the DriveRack VENU360 through your local network with your Android, iOS, Mac, or Windows device to customize the sound of your loudspeaker system so it sounds and performs optimally. The app lets you directly manipulate the Compressor, Graphic EQ, Parametric EQ, Crossover settings, Speaker profiles, and more with its attractive, easy-to-use graphical user interface.
SPECIFICATIONS
General
Input: (3) analog line inputs/(2) AES digital inputs (shared connectors), (1) RTA mic input
Input Connectors: (3) female XLRs (2 selectable between analog/AES digital audio formats), (1) female XLR RTA mic input
Input Type: Electronically balanced/RF filtered
Input Impedance: 30 k Ohms, balanced line to line
Max Input Level (line inputs): +28 dBu, balanced, less than or equal to 1% THD
CMRR: 50 dB @ 1 kHz
RTA Mic Preamp Phantom Power: +48 VDC
Output: (6) Line Outputs
Output Connectors: Male XLR
Output Type: Electronically balanced, RF filtered
Output Impedance: 120 Ohms, balanced line to line
Max Output Level: +22 dBu, balanced, less than or equal to 1% THD
Alignment Delay: Up to 1000 ms per output channel
A/D Converter: 24-bit with DBX Type IV Conversion System
A/D Dynamic Range: 117 dB A-weighted, 114 dB unweighted, 22 kHz BW
Type IV Dynamic Range: 129 dB with transient material, A-weighted, 22 kHz BW; 126 dB with transient material, unweighted, 22 kHz BW; 121 dB typical with program material, A-weighted, 22 kHz BW
D/A Converter: 24-bit
D/A Dynamic Range: 116 dB A-weighted, 113 dB unweighted, 22 kHz BW
Internal Processing Wordlength: 32-bit floating point
Supported Sample Rates: 48/96 kHz (32-192 kHz using sample rate conversion)
System Performance Dynamic Range: 114 dB A-weighted; 110 dB unweighted
THD+Noise: 0.0025% typical at +4 dBu, 1 kHz, 0 dB input gain
Frequency Response: 20 Hz - 20 kHz, +0 /- 0.5 dB
Interchannel Crosstalk: -97 dB, -105 dB typical 20-20 kHz, +4 dBu, all channels measured
Latency: Analog input to output: 2.57 ms (48 kHz), 2.28 ms (96 kHz); Digital AES input to output: 2.31 (48 kHz), 2.15 ms (96 kHz)
Operating Voltage: 100-240 VAC 50/60 Hz
Power Consumption: 18 W
Unit Weight: 5.48 lbs. (2.49 kg)
Shipping Weight: 7.10 lbs. (3.22 kg)
Dimensions: 1.75" (H) x 8.0" (D) x 19" (W)
Input Processing
dbx Compression
AFS (Advanced Feedback Suppression)
31-Band Graphic EQ
12-Band Parametric EQ (with narrow notch capabilities)
Subharmonic Synthesis
Backline Delay
Noise Gate
Output Processing
Crossover (supports full range up to mono 6-way systems)
12-Band AutoEQs (8 AutoEQ bands, 4 User bands)
DMX Compression
Automatic Gain Control
Subharmonic Synthesis
Noise Gate
Tower Delays (up to 1000ms per output)
8-Band Parametric EQs (used for speaker tunings)
DBX Limiting
Driver Alignment Delays
Tested Wireless Routers
D link 636L
D link Cloud router 2000
Cisco / linksys: WRT54G2V1
Netgear WGR614 v7
Netgear WNR 1000
Manufacturer: DBX
Model: VENU360
SKU: I353797-GA51723-40-WHXPL
UPC: 691991033797
We are Chuck Levin's Washington Music Center
Maryland, Virginia, and Washington DC's legendary music shop. Family-owned and operated since 1958. Buy gear the way it was meant to be bought, from a store that's been there through it all and has the vibe to prove it. We're staffed with musicians and industry experts, people that live and breathe music gear. Our mission is to help you find the right gear for your project, that thing that will bring you the most joy out of what you do. We're an authorized dealer for almost every brand, we stock items the other stores don't, so you can try before you buy. Stop by our Wheaton, MD showroom and see for yourself.
Contact us if you have questions about one of our listings or if you need help finding the right piece of gear.

Condition
Brand New (New)

Brand New items are sold by an authorized dealer or original builder and include all original packaging.

learn more

Brand
Model

DriveRack Series VENU360 Complete Loudspeaker Management System

Categories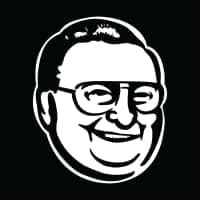 Wheaton, MD, United States