When Cindy Hulej answered our video call, there were hundreds of pieces of stacked wood behind her. The end of each piece had a categorization written on it with either the wood type or where it came from. The rest of the background looked similar—chaotic but controlled, with wood and tools everywhere. It was like a painting filled with different textures and natural hues. Her guitars, wholly unique, share that same feeling.
This is Carmine Street Guitars: a respected, old-school shop in an ever-changing Greenwich Village. Opened in 1991 by the master luthier Rick Kelly, the building and its two principal builders—Kelly and his apprentice Hulej, each with their own brands, Kelly Guitars and Cindy Guitars—feel like flag bearers of an older, grittier New York City thanks to their DIY, blue-collar approach to building.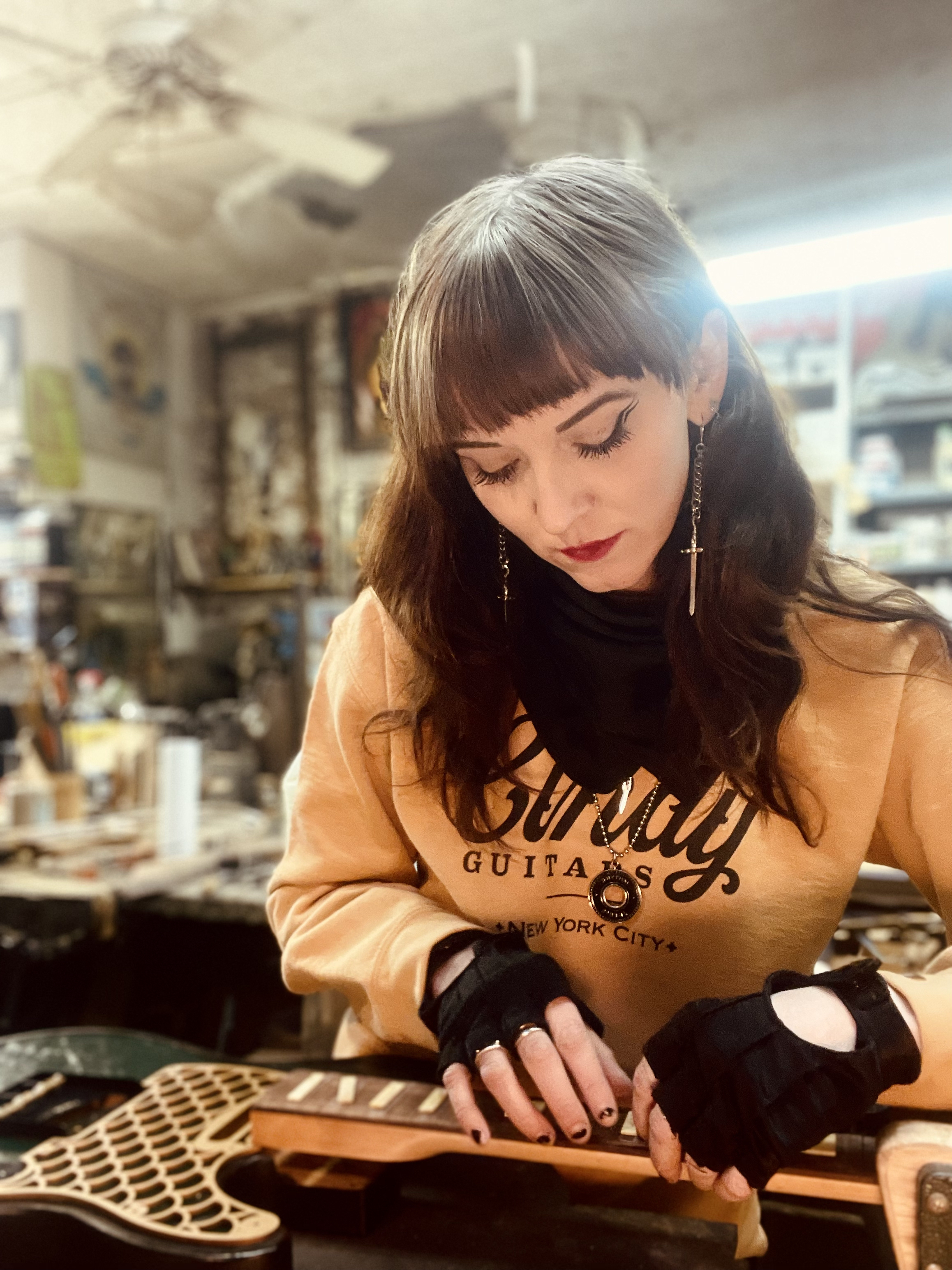 Cindy Huleg.
For decades, Carmine Street Guitars was home to only one brand, Kelly Guitars. Ten years ago, that changed when Hulej, a lifelong artist and musician who had no prior luthier experience, walked in the door. She walked straight up to the legendary luthier and asked if he would mentor her. "[Rick] said, 'Sit down at the computer, answer the phone, and I'll show you the back shop,'" said Hulej.
Kelly, known for his oddball custom builds made out of reclaimed wood, had several apprentices through the years. None had the drive and long-term career aspirations that Hulej did, though. She wanted a career, not a single guitar or summer project. The two bonded over their art backgrounds and became a unique mentor/mentee pairing. Hulej has a distinct punk rock look and Kelly, her senior by decades, is the type to not own a cell phone.
After working at the desk, Kelly started teaching Hulej. First with a joint build and then he set her off on her own, always happy to answer questions. From the beginning, Kelly made it clear that Hulej wasn't working on Kelly Guitars. She was working on her own builds, crafting her own legacy.
"I didn't think about having my own brand when I started here," said Hulej. "It was Rick's outlook and a moral thing. If someone's expecting a Rick Kelly guitar, it needs to be mostly built by Rick Kelly. So he pointed me to having [my] own brand."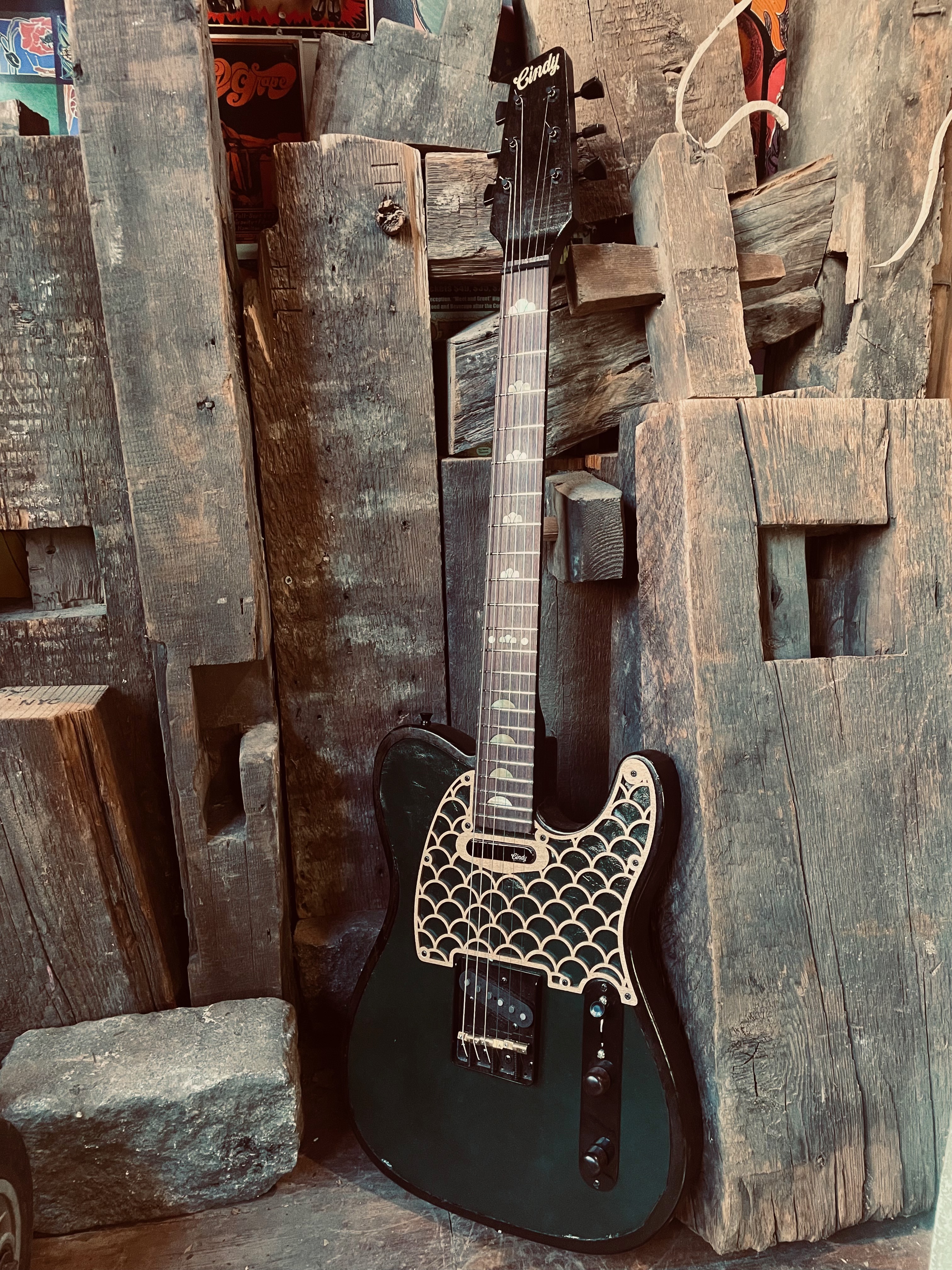 Initially, Hulej was apprehensive of naming the brand after herself. She thought that no one would want to buy a guitar with "Cindy" written on the headstock. She considered her last name but knew that people struggled to pronounce it. After some back and forth with Kelly, she landed on "Cindy Guitars." Over the next 10 years, she learned that plenty of people would want to play a guitar with her first name branded on it.
While both of the builders work out of Carmine Street Guitars' workshop and share some building techniques, there are differences in their styles. Kelly Guitars are more classic and highlight the wood's natural patina and imperfections. In her words, her creations are darker. "I have a punk rock background. So I think that comes through on a lot of my builds. I do occasionally build traditional stuff. But I've also done builds where I decided to go for it and those look a bit different than anything [Rick would] build."
In the world of luthiers, Hulej is fresh. But having been at it for ten years, she's one of the most in-demand builders in the states. She's built guitars for Michael Imperio of Sopranos and White Lotus fame, Kurt Vile, and many more. Her ascension has been meteoric, and her work has the same individuality that some luthiers take several decades to define.
Most, if not all of Hulej's guitars are built with reclaimed wood from around New York and the regional area. She's made them with pieces of The Chelsea Hotel, the Bowery, and wood picked out of dumpsters. Customers have even begun donating and trading wood for custom orders.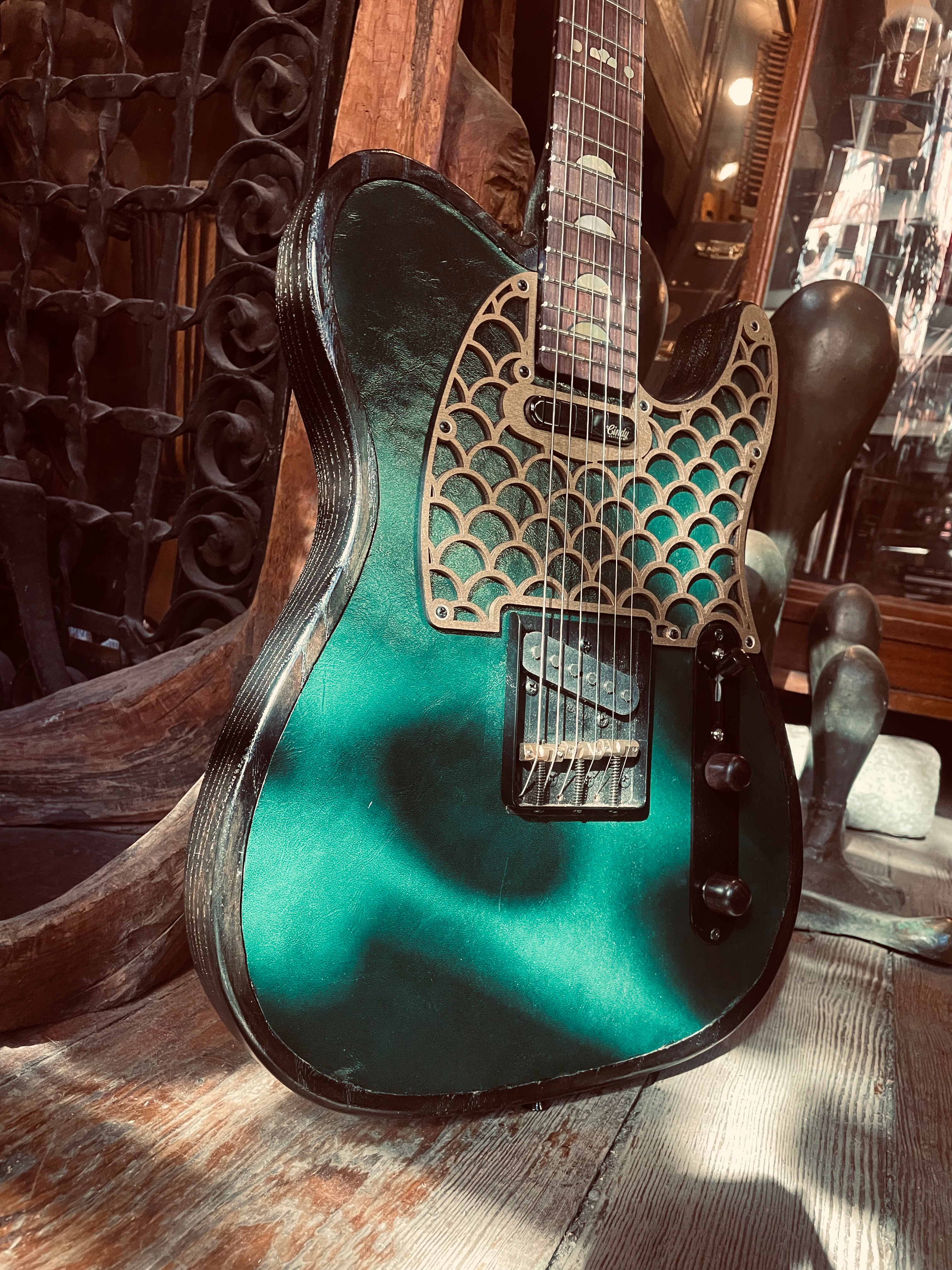 "We just got a piece from a well-known bar out in Long Island," she said. "They want to put the guitars made out of the bar inside so people can buy them. The storefront across the street from us was also renovating, and I would show up at nine AM. I'd run over there and go, 'Can I have this?'"
The wood isn't the only unique touch, though. A common request in her custom orders is pyrography—also known as woodburning. Years ago, she'd seen Kelly try woodburning, became interested, and taught herself. The practice has since become something of a signature. Combining that skill with her drawing and painting background, Hulej can create intricate burns that resemble gargoyles, gothic cathedrals, and city streets.
Another common feature of her work is the use of unorthodox materials. Hulej has wrapped guitar bodies in book leather, made a pickguard out of feathers, used mother of pearl for inlays, and put nails from construction sites into pickups. "I've never built the same guitar twice," she said with a laugh.
Reclaimed wood and arcane materials aren't just a novelty. As Hulej explains, each guitar she works on is a true workhorse. "When people see a lot of the [guitars] that I do, they automatically think it's an art piece," Hulej said. "Sometimes they even ask, 'Well, does it play?' Well, yeah, that's kind of the point."
For Reverb's "Unmanned Mission"—where we gathered gear built exclusively by women builders and showed it off with an all-girl band—Hulej lent, listed, and then sold a Telecaster-shaped guitar made from old swamp ash with a maple and rosewood neck with leather wrapped around the body. The catalyst for the overall look of the guitar came from a fish scale-like pickguard from Darkmoon Pickups.
See the Cindy Guitars creation in this Unmanned Mission video.
"I just thought it would be cool to use some of Jesse Paris Smith's leather on this because of the color, and it looked aquatic to me," she said. "That leather has a gorgeous blue-green color. So the idea of the whole guitar kind of came from that pickguard almost, which is interesting."
Although Hulej's creation has sold, you can follow Cindy Guitars on Reverb to be notified when more custom creations arrive. Or, you can visit her website here. Recently, Hulej unfortunately suffered a broken hand, which is going to slow down her production schedule for the next several weeks. If you can afford to support the GoFundMe started by Carmine Street Guitars on her behalf for medical costs, you can do so here.
Unmanned Mission
From circuitry to studio to the global stage, women are building a more musical future, and we're here to celebrate.
Learn More