Photo of Rachel Rosenkrantz, courtesy of Atelier Rosenkrantz.
Traditional tonewoods, tortoiseshell or its plastic equivalents—many great luthiers have built guitars with these materials. But mushroom roots and corn husk, honeycombs, and lacquered eggshells? That must take some kind of special luthier.
To Rachel Rosenkrantz, it's all in a day's work.
Under her namesake studio, Atelier Rosenkrantz, Rachel has been building instruments for more than a decade. A Hauser-style classical guitar was her first, which she built for herself, styled similarly to the one she began playing as a child in Montfermeil, France.
Flat-top steel-string acoustics followed—"a wave of parlors," as she calls it—and other instruments too. As her reputation and client base grew, she expanded into electric guitars. (Six years ago, Anthony Bourdain profiled Rachel as part of his Raw Craft YouTube series, tagging along with Rachel as she built an electric-acoustic bass for The Smiths' Andy Rourke.)
All the time, she's nurtured a designer's eye and a scientist's mind, dreaming up, creating, and incorporating new materials and building techniques into her practice, especially those that contribute to a more sustainable environment.
She says this thrust toward sustainability "kicked into a new degree when I started to proactively search for material that can be substituted for wood, because wood is endangered. Every year, the CITES list [the Convention on International Trade in Endangered Species of Wild Fauna and Flora] grows and grows."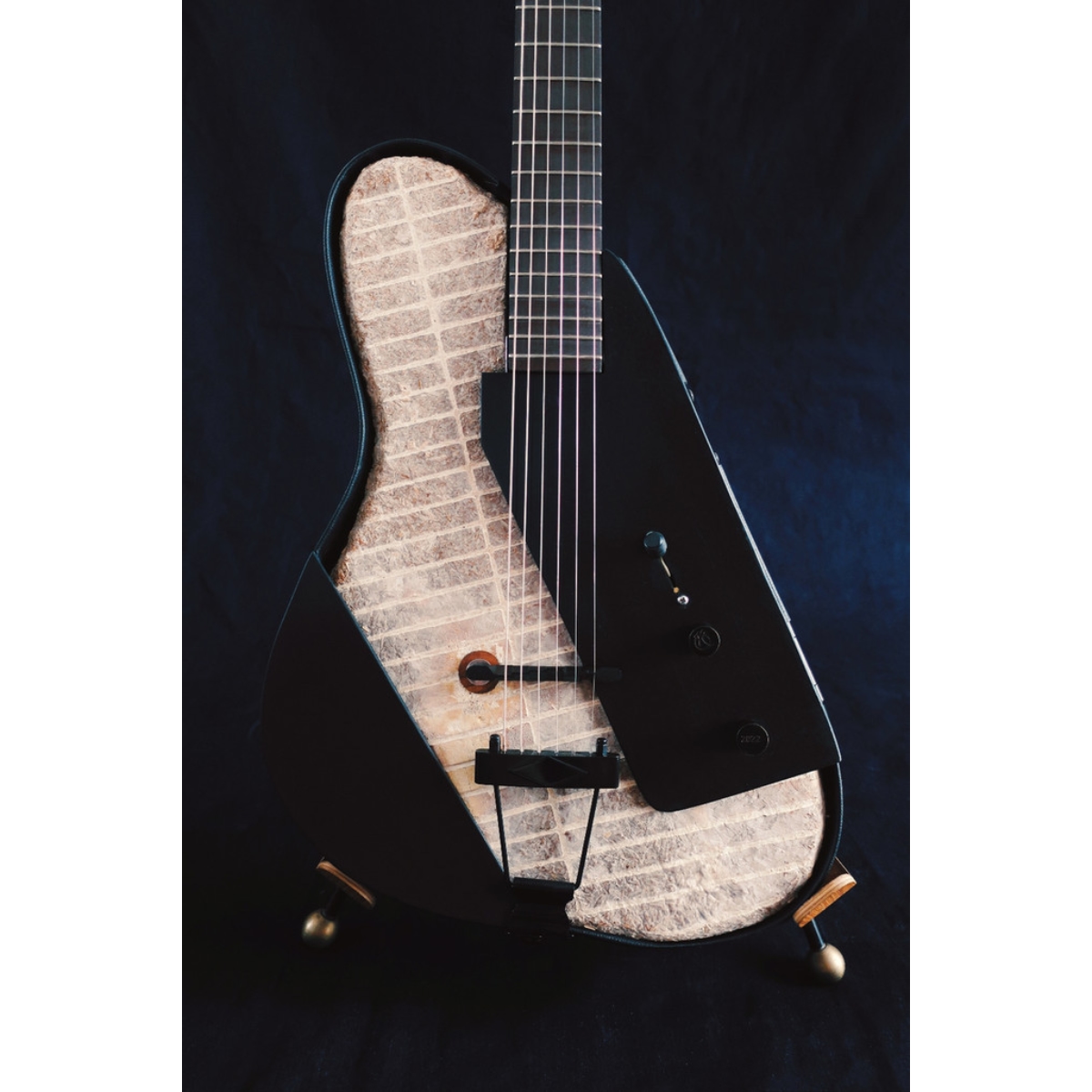 One recent creation of Rachel's that takes this outlook to heart is the Mycocaster, a captivating electric guitar unlike any other. It gets its name from the fungal roots (or mycelium) that serves as the foundation of its body.
"The mycelium is what binds together dried corn husk and dried hemp. It's farm waste that is molded, and the mycelium fills all of the voids and becomes a body," she says. "Once you bake it and you dry it, it stops the growth, and you have a substrate that's very much like MDF [medium-density fibreboard] but much fluffier and lighter."
It's an idea she got from food packaging, since mycelium is now sometimes used as an alternative to styrofoam. In learning that, Rachel remembered that styrofoam is a resonant material, and she had even seen and heard some experimental cellos and sound sculptures made from it before.
However, with mycelium, the intense pressure that tightened strings put on a guitar body mean a mycelium-only body could crack. "The challenge is… it diffuses sound, but it doesn't deal with tension. It breaks like a granola bar," she says.
So to build the guitar, Rachel reinforced the mycelium with an outer shell of compressed recycled paper, a material so strong it can also serve as the guitar's neck. The only wood on the whole thing are a couple of rosewood scraps, which Rachel upcycled from a previous build.
---
---
The Honfleur, another Rosenkrantz original, is built with sipo wood, a more sustainable alternative to mahogany that other guitar builders have begun to use as well. But it's what Rachel decorated it with that makes the Honfleur unique.
Incorporating the Japanese urushi technique—applying lacquer over gold leaf—the Honfleur has rounded, triangular ridges made from eggshells, which Rachel collected over months' worth of home-cooked breakfasts.
"I had four gallon jars of crushed eggshells, a lot—two eggs every morning," she says with a laugh. "I'm not saving shells right now. I need a break from that before I use that technique again."
The result looks incredible, almost like a studded, high-end leather jacket or, according to her young nephew, "like dinosaur skin." It sounds incredible too. The interior of the guitar's semi-hollow body, which itself is covered in gold leaf, helps to project the sound when playing acoustically, while the lacquer is flexible enough that the wood can vibrate relatively freely.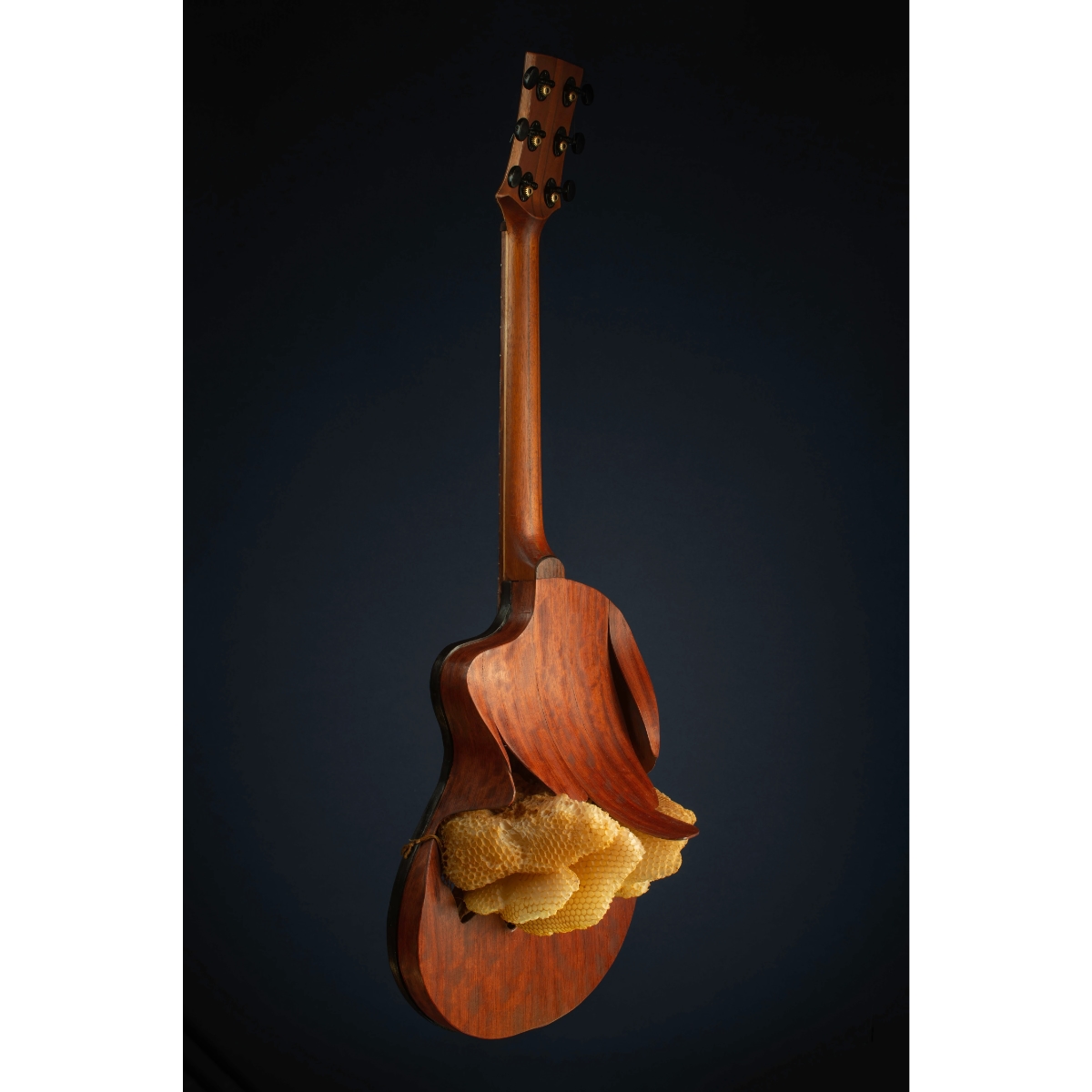 Another special build, and one that might illuminate the range of Rachel's curiosity for sound-enriching materials, is the Pawtuxet. After picking up beekeeping as a hobby in the early days of the pandemic, she read all about how bees communicate. Some of this communication takes place through the honeycomb structures they build, which vibrates with messages the worker bees send back and forth.
"Bees use the comb to communicate among themselves," Rachel explains, in addition to interpretive dances and other fun forms. "But among the workers in a comb, all the bees that are in the cells communicate by humming. So a bee on the opposite side of the space in the hive can still get the message."
"That's vibration across a material at a specific frequency," she says. So, she thought, "That reminds me of how a guitar works. That sounds like a soundboard." And one of the common frequencies bees use? 309 hertz, which falls within the lower mid-range of a guitar's sound.
If bees communicate so well through vibration—at a frequency within the range of a guitar—well… you can see where Rachel's brain went next.
In order to bring the honeycomb into a guitar, she first had to figure out how to encourage bees to build one into a soundboard. Finicky insects, bees like to work in very precise conditions—they want "only enough space for two bodies to fly by"—so she carved her soundboard's bracing to match.
Bees also need time to work, and so she had to pick a material that could last more than year, in cold weather and hot. She combined the synthetic material Nomex to the cedar soundboard in order to keep it straight.
Given the time and (the perfect) space, Rachel's bees got to work. When they were through, she built the rest of the guitar around their comb, finishing it, appropriately, with beeswax.
The striking work of art also, to Rachel's ear, recalls a certain percussive stringed instrument. "It sounds like a harpsichord, somehow" she says. "I don't know why. I cannot make sense of it, but that's how it sounds."
While these instruments represent some of Atelier Rosenkrantz's most original creations, plenty of traditional models and other custom builds come out of her shop too. Even there though, Rachel tries to use as many sustainable and ethically sourced materials as she can.
This includes using two different kinds of fish leather in place of plastics, either shagreen (ray skin) or repurposed tilapia skins cast-off from the fishing industry. These can be dyed or painted into beautiful accent pieces, pickguards, straps, or strips of binding, but they also have one major benefit over plastic: they're more flexible, allowing the wood behind or around them to expand and contract.
For Reverb's "Unmanned Mission"—where we gathered gear built exclusively by women builders, and showed it off with an all-girl band—Rachel was kind enough to send her Honfleur. (You can see Neptune's Core play the guitar and talk about it in our video above.)
If you feel inclined, you can also purchase the Honfleur from the Atelier Rosenkrantz Reverb shop, or explore all of Rachel's work—from non-traditional to traditional guitars—at the Atelier Rosenkrantz website.