Superbooth 2023 is in full swing, with the world's synth enthusiasts gathering in Berlin to witness the hottest releases and latest advancements in music technology.
More than 200 exhibitors hailing from 34 countries are set to showcase their most innovative synthesizers, pro audio, and standalone gear. The annual event has become a pivotal point for manufacturers in the development and design of future electronic musical instruments.
Reverb is once again on the ground at Superbooth and will keep you updated throughout the show with all the exciting news, videos, and product introductions. Make sure to follow this page closely for more updates on the latest and greatest gear and check Reverb's Instagram Stories for some sneak peeks, fresh from the Superbooth grounds.
Elektron Releases Analog Heat +FX Dynamics Processor
A roundup of excellent gear at Superbooth 2023.
The newest addition to the Elektron family is the Analog Heat +FX. It's a sound-coloring and manipulation box that offers a vast range of effects and processing possibilities to give you complete control over your sound. It boasts eight analog stereo distortion circuits, each with a unique way of processing sound. From clean multiband boosts to complete distorted annihilation, each circuit offers a different way to enhance or destroy your sampler, drum machine, synth, vocal, DJ mixer, Eurorack, or any other sound source that comes to mind.
Alongside the analog circuits, the Analog Heat +FX also provides a range of new digital effects, like the Warble effect which adds a bit of movement and texture with a dash of chorus that's reminiscent of tape age. With the new Flow page, you can quickly rearrange, mute, and unmute the effects to find your own signal flow with your own special timbres. Showcase the nuance of your music with endless options, and save your explorations in one of the 512 preset slots for instant recall.
With its eight ways to boost your sound, this versatile and innovative device is perfect for adding analog warmth to your sound explorations. Suitable for use on individual tracks or on the master bus, the Analog Heat +FX can double as a sound card for a nimble studio set up. USB is on board for easy connection to other class-compliant devices like computers, phones, and tablets, as well as seamless computer integration with Overbridge.
Preorder the new: Elektron Analog Heat +FX .
Shop all: Elektron Gear.
Arturia's MicroFreak Stellar & New Firmware Upgrades
Hands-on with the Arturia MicroFreak Stellar.
Four years after its introduction, Arturia's beloved MicroFreak synth just received an astronomical upgrade: firmware version 5.0 includes a sample playback engine and three different granular engines, bringing the total number of MicroFreak engines to an impressive 22.
On top of that, the upgrade includes an expansion of preset slots (now 512), two new modulation options (random-per-key and snap), and an update to its MIDI Control Center that will allow users to upload samples up to 24 seconds in length for playback through the new engines. The update will be released on May 30th, hot off the heels of the recently-released limited edition MicroFreak Stellar ($399) pictured above.
Get the new: Arturia MicroFreak.
Shop all: Arturia.
UDO Audio Releases the Super Gemini Synthesizer
Check out the UDO Audio Super Gemini
UDO Audio's new Super Gemini is a 20-voice polyphonic, bi-timbral analog-hybrid synth that, like the Super 6, can also be used as a 10-voice stereo binaural synth. It features digital oscillators that offer wave-morphing, cross and ring modulation, bi-directional sync, and more—all fed through an analog signal path inspired by vintage instruments. The keyboard features 61 semi-weighted keys with polyphonic aftertouch and the Super Gemini also features a custom-engineered ribbon sensor.
Shop all: UDO Audio.
Korg Berlin Introduces Acoustic Synthesizer Prototype
Korg Berlin Introduces Acoustic Synthesizer Prototype
Korg is gearing up for their Superbooth debut in their hometown of Berlin. They will be showcasing an early prototype of their latest innovation—an acoustic synthesizer that combines the sonic richness of real vibrating bodies with electronic control.
The development is led by Korg Berlin CEO Tatsuya Takahashi, the mastermind behind some of the most popular synths and drum machines of the last decade. His contributions include the Minilogue, Monologue , Monotrons, early Volcas, and more.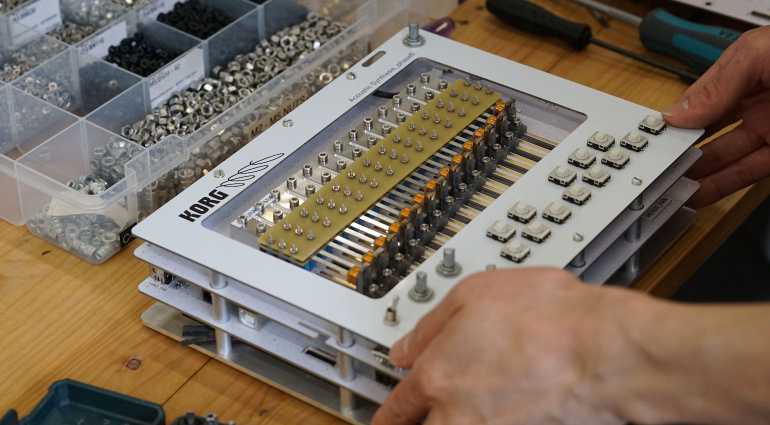 Korg's Acoustic Synthesis_phase 5 prototype.
However, the prototype being showcased is a work in progress product only. The technology is far from finished, and it's not even housed in a finished case. At present, the technology is only able to produce a few basic sounds and has no name, pricing, specs, or release date. Korg Berlin has confirmed that the product will not be released in 2023, and there will be no further information available this year.
Buchla Reveals 50th Anniversary Music Easel
Watch our first look at the true-to-form 50th Anniversary Easel.
One of the earliest portable electronic music instruments is celebrating its 50th birthday this year, and to celebrate, the Buchla team has unveiled an astounding anniversary edition. The 50th Anniversary Buchla Music Easel pays homage to the 1973 original with a powder blue aluminum case, Rogan knobs, and gold keys on its 218 touch surface.
"More than a retro novelty, the Music Easel still speaks to a future we strive for," Buchla wrote in a recently-released statement. "There are many new worlds to explore in this instrument created at the crossroads of the jazz and computer ages. Designed as 'an integrated assemblage of functions', rather than a collection of modules, the Music Easel's color coding, comfortable access to controls, and solid patch connections allow for satisfying sessions of sonic discovery."
Buchla will take orders on the Anniversary Easel for the full month of June. They're built to order and will never be made again, so take advantage and sign up via Buchla's website.
Shop all: Buchla Gear.
Noise Engineering Announces New Roucha Legio
Watch Noise Engineering's demo of the Roucha Legio.
Noise Engineering is heading to Superbooth with the announcement of their latest creation, the Roucha Legio. This impressive 12dB/octave state-variable stereo multimode filter is the fourth module in the Legio series.
One key element of Roucha Legio that sets it apart is the incorporation of wavefolding, which is much loved by Noise Engineering, as it provides an incredible signal transformation that can be placed before, after—or both before and after—the filter with a switch that configures the placement of fold in the signal chain.
Additionally, authorized users have access to the vast selection of available firmware programs, making it easy to customize your module and create the audio effects you desire. What's more, this feature is made possible through the Legio platform in which users can switch between different firmware systems free of charge.
Shop all: Noise Engineering.
Learn more: Video: Eurorack In Stereo.
Erica Synths' New Oscillator-Free Steampipe
We got an early, hands-on demonstration of the Steampipe with Erica Synths at Superbooth.
Eric Synths teamed up with Dutch company 112 dB to create the Steampipe—a unique, eight-voice, oscillator-free synth designed to mimic the way sound is created by wind instruments. The unit features three main sections: Steam, Pipe, and Reverberation.
The Steam section is modeled after the lungs and mouth of a wind instrument player, with a generator that creates the flow of "steam" and an envelope that determines the force in which it's blown out. The Pipe section is similar to a flute, featuring a push dial within the feedback box that bounces the steam to generate tone. Lastly, the reverberation section adds space and ambience.
Shop all: Erica Synths.
PWM Announces Mantis Synth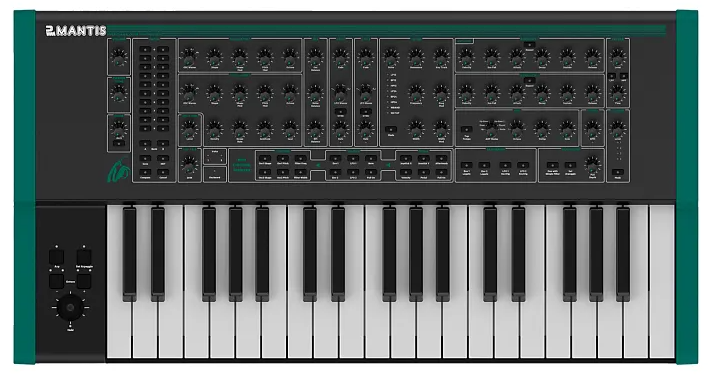 PWM Mantis
PWM has launched the Mantis, a "hybrid analog" synth made in collaboration with the late, great Chris Huggett, the former co-founder of EDP. A duophonic, 37-note synth with velocity-sensitive keys, the Mantis features mathematically generator oscillators and an analog signal path. Combining the architecture of Huggett's beloved Wasp synth with filters lifted from his OSCar instrument, it features two oscillators plus a sub-oscillator per voice. With each signal path comes its own multimode analog filter, as well as two LFOs and independent envelopes. It ships this summer at a price of $1,499, and is available to preorder now.
Preorder the new: PWM Mantis .
Shop all: PWM Gear.
Make Noise Unveils the Spectraphon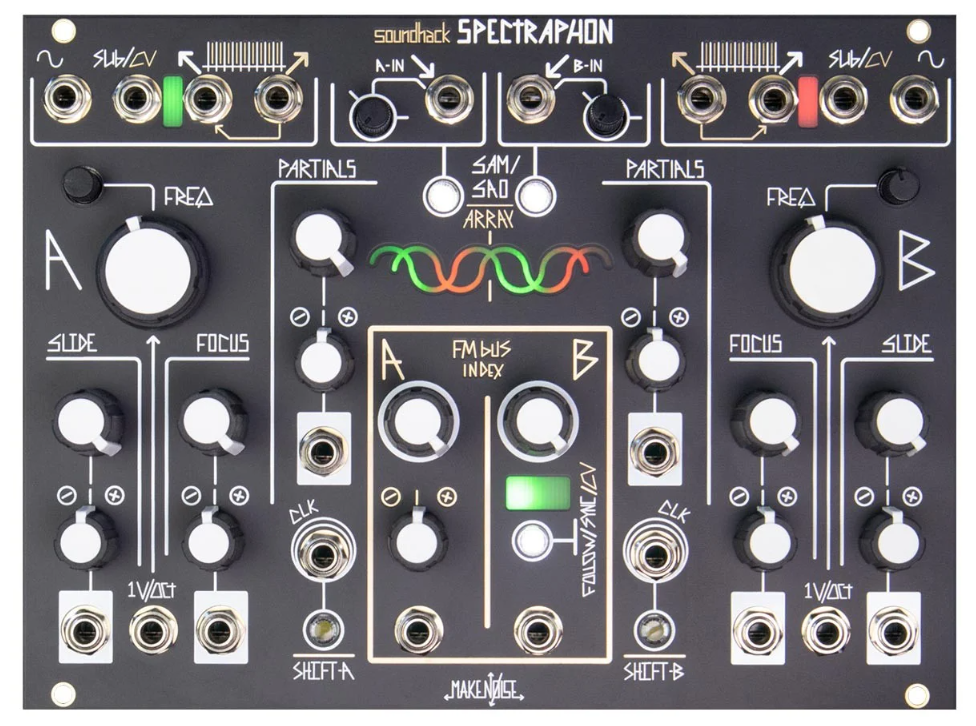 Make Noise Spectraphon
Make Noise has collaborated with Tom Erbe of soundhack on the new Spectraphon—a powerful dual, spectral oscillator. Part oscillator and part processor, this new hefty module is great for vocoding, additive synthesis, and spectral processing. The dual sides mirror one another, with four outputs on each side, as well as a partial knob, frequency knob, and slide and focus knobs. Usage modes include the SAM (Spectral Amplitude Modulation) mode and SAO (Spectral Array Oscillation) mode.
Shop all: Make Noise.
Introducing Tempera: A Granular Instrument
A closer look at the unique Tempera.
From the makers of the Vector Synth comes Tempera, a brand-new granular instrument that features eight sample slots that correspond to their own vertical columns of buttons. Simply toggled up and down to scrub back and forth through the sample, or play back each of your samples polyphonically. The Tempera is topped off with four granular emitters, envelopes, LFOs, a filter, and a reverb, making it the ideal for ambient textures. No price or release date has been confirmed yet, but as of now you can sign up for info updates directly on the Tempera website.
Teenage Engineering Unveils the TP-7 Recorder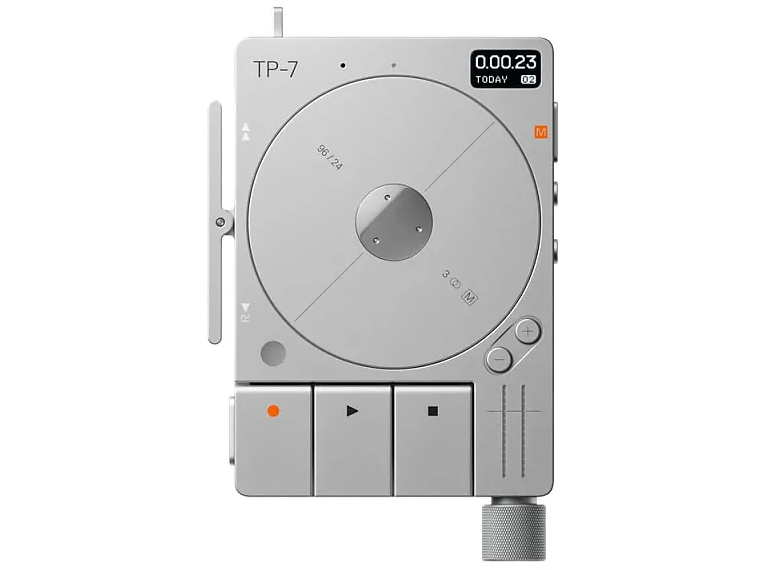 Teenage Engineering TP-7
After the recent release of the new CM-15 Field mic, Teenage Engineering is once again expanding the Field series with the new TP-7 portable recorder. As with TE's other designs, the TP-7 is sleek, minimal, and built to be intuitive. It'll fit in the palm of your hand and features a tactile, motorized tape reel in its center that not only gives you some visual feedback during playback and recording, but is also useful for scrubbing, to pause, and for navigating the menu.
In addition to its tactile and useful controls, it also features the ability to transcribe your recordings by connecting the unit to your phone and using the TP-7 app. The TP-7 is available now for preorder.
Preorder the new: Teenage Engineering TP-7.
Shop all: Teenage Engineering.
Sonicware Unveils New Liven Texture Lab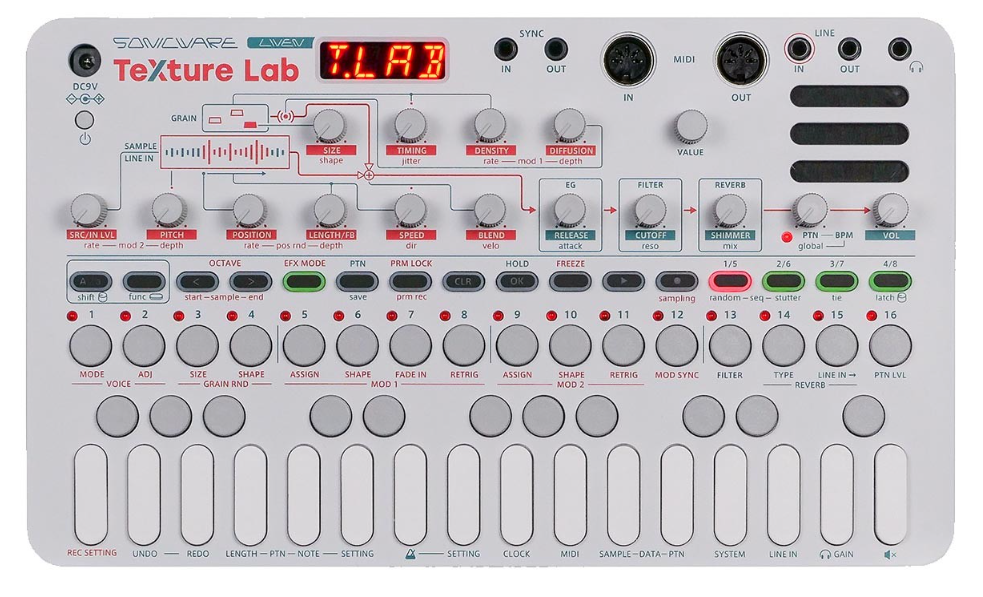 Sonicware Liven Texture Lab
Japanese brand Sonicware just unveiled a new addition to its Liven synth series, the Texture Lab. It's a four-voice granular synth, sampler, and stereo FX processor. It features a powerful 128-step sequencer, a first for the Liven series, that allows for parameter locking on each step so users can make really unique, ever-changing sequences. The synth also features 16 pattern presets made by well-known sound designers and also features battery power and a built-in speaker. Stay tuned for a preorder, coming soon.
Shop all: Sonicware.
Roland Introduces AIRA Compact S-1 Tweak Synth
Check out Roland's new S-1 Tweak
Roland's range of pocket-sized Aira Compact products just added a new member to its family. The S-1 Tweak Synth pulls cues from the classic SH-101 monosynth using Roland's Analog Circuit Behaviour (ACB) technology, only this time, it packs in four full voices of polyphony. There are dedicated sections to oscillators, envelope, filters, and LFOs, not to mention a variety of effects including choruses, delays, and reverbs that can be adjusted via assigned knobs.
The 26 multifunction pads not only assume a dual role as a keyboard or a 64-step step sequencer, but they can also be used to cut waveforms into sections via the Osc Chop feature. The S-1 Tweak Synth is priced at $200 and is available now.
Get the new: Roland Aira S-1 Tweak.
Shop all: Roland.
AJH Synth Debuts MiniMod Keyz
AJH Synth has unveiled the new MiniMod Keyz—a hybrid modular, Model D-style monosynth. Uniquely, it pairs the brand's popular MiniMod modules—which recreate the vintage sound of the Model D in the Eurorack format—with the feature-rich, full-size 49-note Ce8audio Niftykeyz controller keyboard that's been given a vintage-inspired makeover with custom walnut sides. The unit can be used as a standalone keyboard synth, or expand it even further by patching it to other Eurorack modules.
Shop all: AJH Synth.
Oberheim OB-X8 Announces Desktop Version
The legendary OB-X8 has made its way back to our hearts as a desktop synth—and, let me tell you, it's a huge deal. The original OB-X8 is a classic masterpiece that has helped craft countless hit records, and now it's available as a powerful, portable desktop unit with all the classic, punchy Oberheim tone we know and love.
With its all-analog-signal path, the OB-X8 desktop synthesizer is an exemplary instrument that contains all of the Page 2 extras and classic sounds that were present on the original OB-X. The synthesizer features two discrete OB-X/SEM-lineage VCOs per voice that deliver that classic Oberheim sound, paired with authentic OB-X-style tone and presence provided by discrete SEM-lineage VCFs.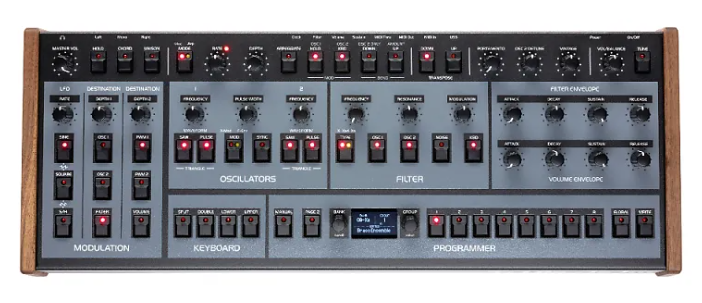 Oberheim OB-X8 Desktop Module
The OB-X8 doesn't stop there, with genuine Curtis filters that add bold OB-Xa/OB-8 character, all meticulously modeled envelope responses that match each OB model, and bi-timbral capability that allows two presets to be played simultaneously for splits and doubles.
The OB-X8 desktop synth also boasts over 400 factory programs, including the full set of factory sounds for the OB-X, OB-SX, Ob-Xa, and OB-8, making it an incredibly versatile instrument in any musician's studio. With L/R Stereo and Mono outputs, volume, sustain, and filter pedal inputs, an arpeggiator clock input, MIDI In, Out, Thru, and USB, the OB-X8 desktop synthesizer is an incredibly powerful musical instrument. It weighs less than 10 pounds, making it easily portable.
Preorder the new: Oberheim OB-X8 Desktop Module.
Shop all: Oberheim Gear.
Introducing the New Special Edition microKorg Crystal
Hands-on with the Korg microKorg Crystal.
To celebrate 20 years of the MicroKorg, the brand has just released the MicroKorg Crystal—a clear, special edition variant of their popular compact synth. It features an aptly named clear keyboard chassis, allowing players a look at what's going on inside. Meanwhile, the front panel has the same functions as the original keyboard, but it is now crystal clear and has a mirror-like finish that gives off ready-to-disco vibes.
It comes with a special edition matching transparent carry case as well. You can pickup this new variant exclusively from the Korg USA Reverb Direct Shop for $529.99 USD.
Get the new: Korg microKorg Crystal.
Shop all: Korg Direct Shop.
Reason Studios Introduces Objekt Modeling Synthesizer
Check out our chat with Reason live from the Superbooth floor.
The DAW innovators at Reason Studios just launched Objekt, an "open-ended" physical modeling software synth with a focus on acoustic sounds. Included with Reason+, it comes equipped with over 500 patches ranging from bells, mallets, percussion, string instruments, and all other manners of electroacoustic textures to be easily customized, as well as a randomizer for "instant variation and inspiration". As the Reason Studio team puts it, "Where you end up might sound familiar or like an imaginary instrument that doesn't exist… until now." It's available at an introductory offer of $79 until May 25th (the original list price is $99).
WMD Is Back in Business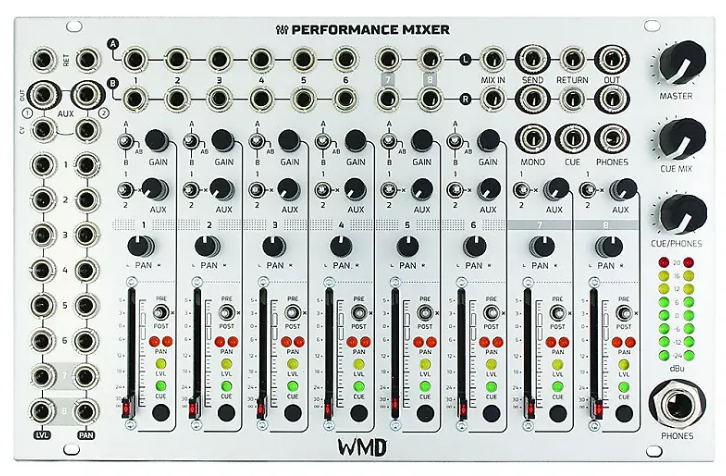 WMD Performance Mixer
It's official: WMD is back in business, with new modular offerings and a new plan. The company was forced to close its web store last year due to the chip shortage and rising production costs. However, with new management now in place, the brand is set to make a comeback with its popular Performance Mixer.
The Performance Mixer Mk2 is said to feature plenty of user feedback, making it a highly anticipated release in the Eurorack community. But that's not all—WMD is also splitting into two companies, creating AMMT. AMMT will focus on developing the Metron and continuing on their line of digital drum modules.
Shop all: WMD gear.
Erica Synths Releases Two New Envelope Generators
Erica Synths introduced two new modules: Black DADSR and Black Envelope Generator 2, both offering a wide range of functionality and control for Eurorack rigs.
Starting with the Black DADSR, this 10HP fully analog re-triggerable envelope generator features voltage control over each stage, which allows users to create complex and dynamic envelopes. It features five stages—Delay, Attack, Decay, Sustain, and Release—allowing for complete control and customization of the envelope's shape. Its independent Gate Delay section adds extra functionality for designing advanced soundscapes, like delayed modulation effects, wave-morphing, etc. With this module, users can create complex rhythmic patterns and add depth and texture to their sound.
Watch Erica Synths demo the Black EG 2 and Black DADSR.
Moving on to the Black Envelope Generator 2, this 8HP re-triggerable, looping envelope generator has some unconventional features that offer unique and exciting possibilities for experimental setups. The Black EG2's standout feature is its optional gate length setting, which allows users to generate a full ADSR envelope even if they use a short trigger at the input.
Like the Black DADSR, the Black EG2 is a looping exponential envelope generator with voltage control over each envelope stage. In LOOP mode, the module outputs a full ADSR envelope instead of a classical AD envelope, offering users more flexibility when designing their sound. The gate length is both manual and CV controlled, which allows for using this envelope generator in compact modular setups controlled by trigger sequencers only.
Shop all: Erica Synths gear.
Instruo Releases Two New Modules
Instruó demonstrates àradh and tágh modules.
Instruó, the Scottish Eurorack company headed by developer Jason Lim, has announced the release of two new modules: àradh and tágh. Instruo's latest offerings are set to revolutionize the modular synth scene with their unique features and outstanding performance. The tágh—a compact random voltage generator—packs a punch with its impressive voltage range and complex waveform generation capabilities. Despite its small size, the module can operate in a multitude of modes, providing users with an endless array of random CV signals to drive their systems.
Meanwhile, the àradh combines the classic transistor ladder filter found in Instruo's first filter module, the tràigh, with additional functions such as a VCA, envelope follower, strike input, and more. This impressive combination elevates the àradh beyond being a mere filter module, and instead positions it as a powerful sound source, CV generator, and signal processing tool in its own right.
With these two innovative modules, Instruo continues to push the boundaries of what is possible in the world of modular synthesis. Whether you're looking to add some serious tonal complexity to your system with the àradh or explore new sonic territories with the tágh, these modules are a must-have for any serious modular synth enthusiast. Both modules offer exciting new features and functions that are sure to be exciting additions to the Eurorack landscape.
Get the new: Instruo àradh, tágh.
Shop all: Instruo.
Making Sound Machines Introduces Farbfilter Series
Making Sound Machines has announced a new series of Eurorack filters, the Farbfilter series. This series includes four modules, each named after its unique function and colorful nature. These modules are only 4HP wide, making them a great option for those who love to conserve rack space.
The first module in the series is the Farbfilter. It is a classic analog transistor ladder lowpass filter that delivers a rich and warm sound, with a colorful drive and CV-controlled resonance, which helps users achieve a more controlled and accurate sound.
The second module in the series is the Farbfolder, which is an analog wavefolder. This module is capable of a unique folding trick where it folds the wave at the zero points and adds odd harmonics to the wave, making it more complex and intricate.
Check out this video by DivKid exploring the Farbfilter series.
The third module in the series is the Farb Highpass, which is an analog transistor ladder highpass filter. It features a distinct circuit from the classic lowpass ladder, and the module users can also control the resonance parameter with their CV. This filter also has a Tilt EQ, which allows users to bring back warmth or go lower on the highpass and achieve the desired effect.
Last but not least, the Farbshaper, which is a west-coast-inspired analog waveshaper module. This module is designed to turn a ramp into sine and create harmonics with other waveforms. Furthermore, it's capable of multiple wave folds, which makes it an exciting module with many potential applications. The circuit also produces opposite offsets internally, making the knob settings fun to automate with CV.
Neuzeit Instruments Announces Warp Hybrid Engine Voice
The forward-thinking minds at Neuzeit Instruments just unveiled their Superbooth release, Warp, making what they claim to be a next-level synthesizer voice with an additive and wavetable hybrid engine that combines the best of both worlds. This 24HP wonder not only boasts a stunning black and gold design that looks like it's fresh out of a sci-fi flick, but it also offers some seriously groundbreaking capabilities in the sound design department.
The Warp's hybrid additive-wavetable synth engine allows for up to four voices with two oscillators each for a total of 4096 sine waves! You can even import and export wavetables as audio files from other synthesizers. Plus, with the built-in modulation matrix and multiple options for spectral and wavetable-based effects, you can truly dive deep into the creation and manipulation of your individual sound.
Shop all: Neuzeit Instruments.
Knobula Announces Pianophonic Module
Hear the Pianophonic Module in action by Knobula.
Knobula, makers of the Polycinematic, just announced their latest in polyphonic module power: the Pianophonic. It's an eight-voice polyphonic wavetable synthesizer that draws its inspiration from the piano's string and hammer mechanism, combined with digital keyboard charm from the '90s.
Equipped with three wavetable oscillators and a single sample playback engine per voice, the Pianophonic produces rich and complex evolving sounds, along with hard-hitting piano-like sounds that are perfect for any musical genre. Moreover, it requires only 12hp of space in your rack. Expected to be available to ship in September 2023.
Shop all: Kobula gear.