Within the four-stringed kingdom, we've covered great picks from the boutique faction and a reinvigorated class of fun short-scale models in a few previous bass videos. Today, we're dipping into a realm you could call one of our specialities: vintage oddities.
Quick: how do you think a staple like the Jazz Bass became a legendary instrument? Trial and error. After Fender and Gibson became mainstays in the '50s, the following decades saw dozens of competitors continually innovating, in search of that next great bass.
While the end result was a dud more often than not, some of those "errors" ended up becoming cult favorites that still catch the eyes of those in the know. Let's take a look at five examples.
Gibson Les Paul Signature Bass
---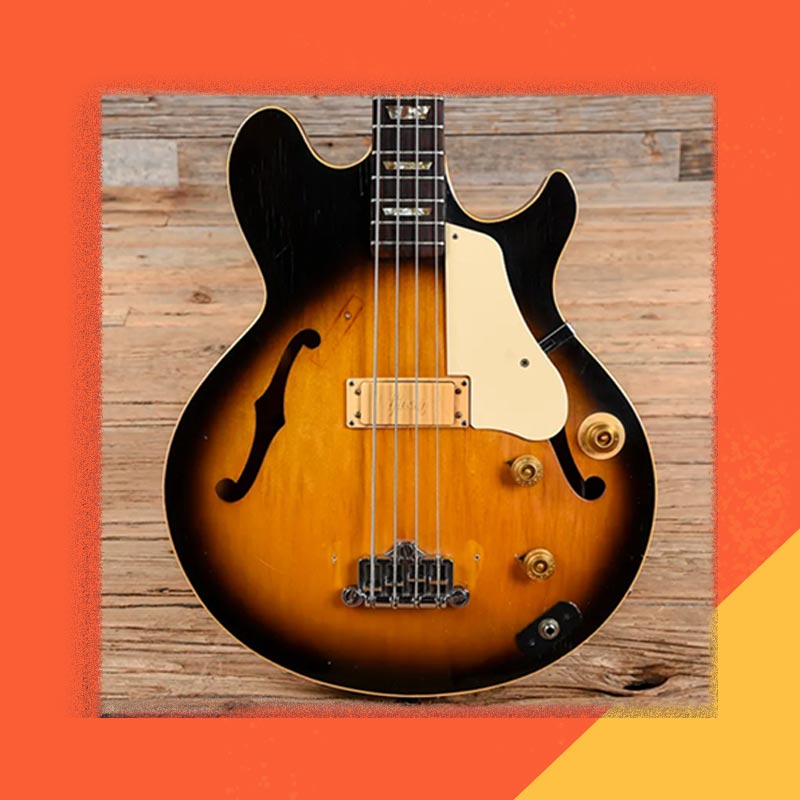 Gibson Les Paul Signature Bass. Photo by
CME
.
The four words "Gibson Les Paul Signature" probably bring to mind a high-end custom model made to the specifications of someone like Duane Allman or Billy Gibbons. The real answer is even more interesting: the company's cult favorite semi-hollowbody bass.
Made from 1973 through 1978, the original Les Paul Signature production numbered around 1,500 guitars and even fewer basses. One of the end results of the company's experimentation with low-impedance pickups (these can also be found in the Recording Bass, later renamed the Triumph), the Signature was designed by Les Paul himself, after Gibson and its most famous endorsee rekindled their partnership, having split through the lion's share of the '60s.
If some woody Gibson tone grabs your attention, these guys regularly sell on Reverb for around $3,000. The Les Paul Signature Bass was also remade as the Epiphone Jack Casady Signature, which found favor with players like Pino Palladino and Mani of The Stone Roses.
Ampeg/Dan Armstrong Lucite Bass
---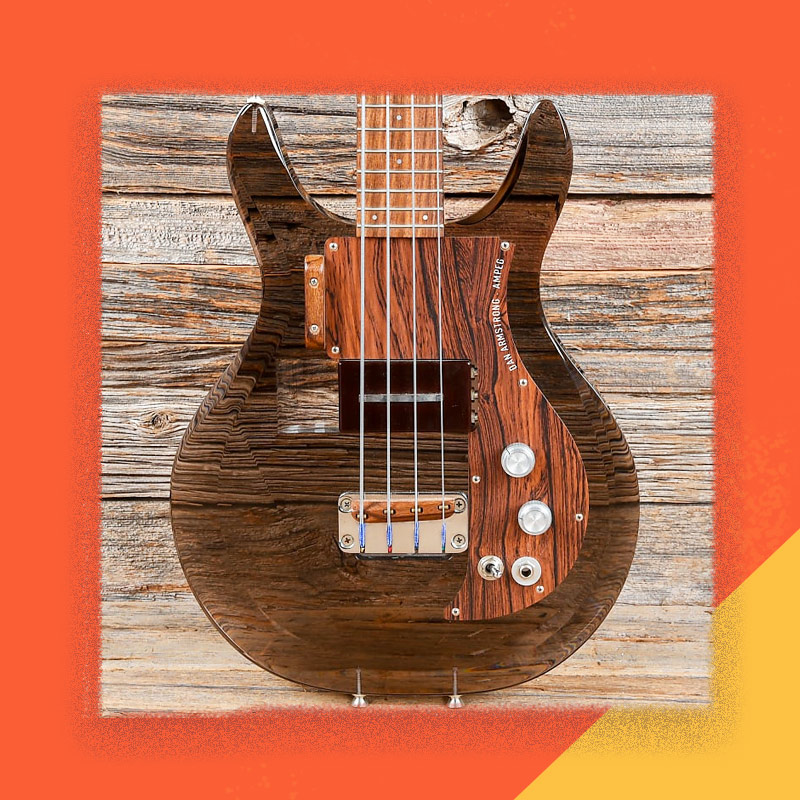 Ampeg Dan Armstrong Lucite Bass. Photo by
CME
.
You might be able to see through these modernist masterpieces, but the sustain rendered from a Dan Armstrong Lucite Bass is as thick as a wall.
While it's not the first mass-produced plastic stringed instrument (that distinction goes to the National "Map" guitars), the Lucite line is still one of the best-known examples of an acrylic guitar or bass. The see-through guitars and basses were made after Ampeg approached Dan Armstrong, a respected guitar tech in NYC, in 1967. Armstrong picked the specific type of acrylic, named Lucite, because he believed it would sustain well. He was right. (The line's official model names, like the ARMB-1, have largely been neglected by fans and players in favor of the simple "Lucite" or "See-Through.")
Only produced for a couple of years (until later reissues), the Lucite Bass found its way into the hands of legends like Geezer Butler and Phil Lynott and modern players like Jesse Keeler of Death From Above 1979. Both originals and reissues crop up regularly on the site and sell for typically between $1,500 and $3,000. Keep a weather eye for the ultra-rare black smoke version.
S.D. Curlee Bass
---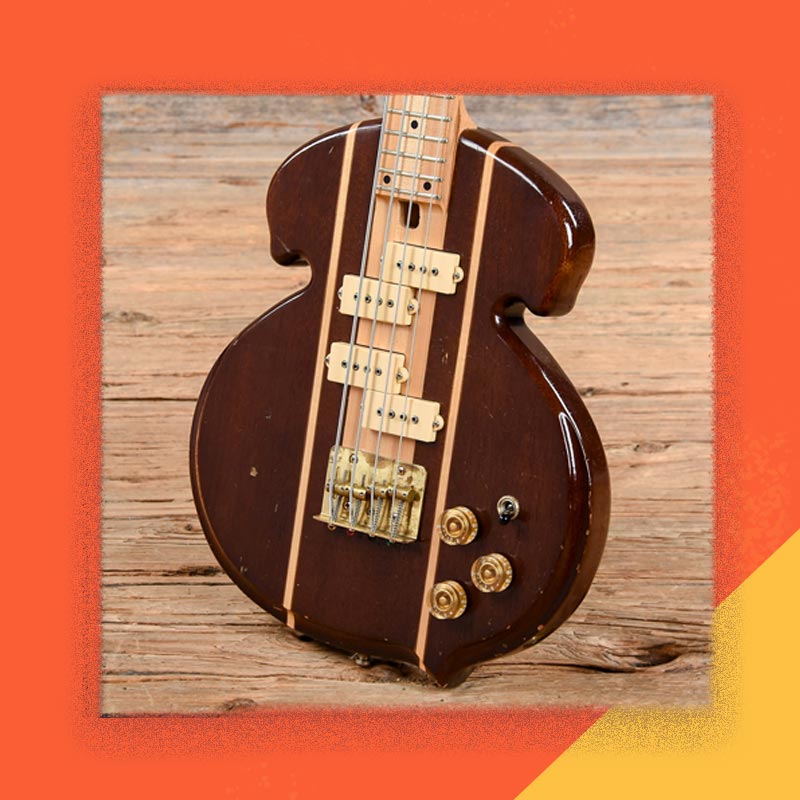 S.D. Curlee Bass. Photo by
CME
.
The name might not leap out at you, but S.D. Curlee is a rightfully lauded name in the bass community for a style unlike any other. In addition to angular design and DiMarzio pickups, these guys are remarkable for their history as the first American company to license their designs to Japanese manufacturers.
Founded in 1976 by three partners outside of Chicago, S.D. Curlee focused on three points in their production: a natural look, solid playability, and affordable prices. Before closing up shop in 1982, the company developed a loyal following for basses (and occasional guitar) that came out of their shop. In that five-year run, Curlee made the maverick move to partner with Japanese manufacturers and produce licensed copies as opposed to unlicensed (which, as we know, was the case with juggernauts like Gibson).
Recently, the S.D. Curlee name was revived by the Birdsong company, which created the article where much of this information came from. For a deeper dive into this little-known yet fascinating realm of gear history, follow the link here.
Rickenbacker 4005
---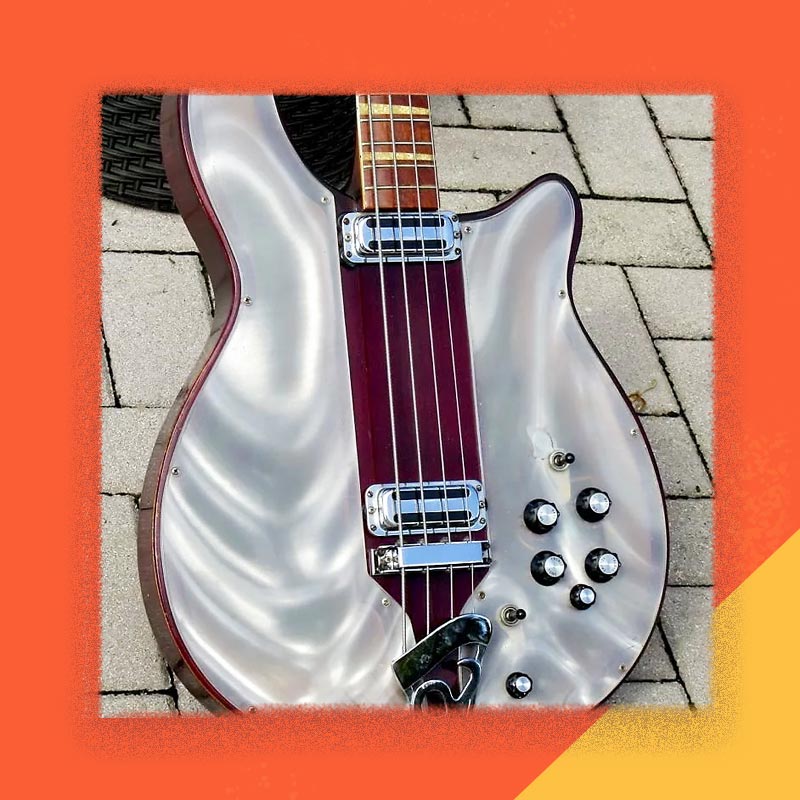 This 360 counterpart is a textbook example of an instrument produced in low numbers because of low demand that went on to fetch high demand for its low numbers. A hulking semi-hollow body, the Rickenbacker 4005 is a titan both in size and price tag: These basses regularly sell for around $10,000, but we were lucky enough to get our hands on one for a demo.
Considering the hefty weight of a 4005 in spite of its design, this holy grail bass summons tone as cavernous as a hidden temple full of mystical relics. That sacred tone is complemented by sumptuous touches like a multi-part neck, checkerboard binding, and a small "filter" knob for more kick that never caught on. It has been seen in the hands Noel Gallagher, Geddy Lee, and even modern players like Chris Baio of Vampire Weekend.
In spite of a production run from 1965 to 1984, there were surprisingly few ever made. According to Reverb sales figures, most 4005s seem to come in Fireglo, with a slimmer offering in Mapleglo. There are a few even rarer finishes, including the delightfully absurd "Lightshow" model.
If you're lucky enough to come across one, you have a king's ransom on your hands.
Gretsch 6070
---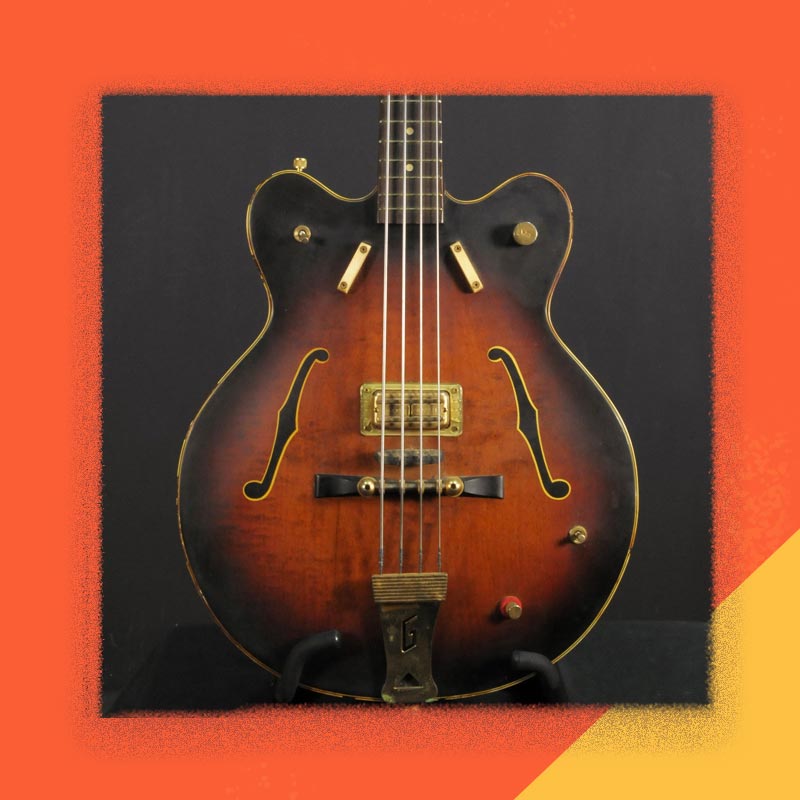 The Gretsch 6070 is a single-pickup, hollowbody bass created in the image of the Country Gentleman guitar—and was therefore called the Country Gentleman Bass. Like some models of its six-string counterpart, the Country Gentleman Bass features a solid top with decorative, painted-on f-holes, in order to head off feedback issues.
Made from 1962 to 1972, the 6070 is a big bass, with a thick neck that would feel positively gargantuan in many player's hands. But like the Country Gent guitar, there are some features made for comfort, like the padded back and the dual thumb and finger rests, and others built for tonal variety: the mechanical mute system near the bridge and a tone switch for its single Filter'Tron humbucker.
While the sheer mass of the body, neck, and headstock might give the impression that you're playing an upright, the bottom strap peg goes one step further. You can extend the endpin into a stand, letting you play the bass in upright position. You can find similar models from Gretsch with different pickup, body, and finish variations: the 6071, 6072, and 6073.