Photo of Leila Sidi, courtesy of TunaTone Instruments.
Last week, we got to kick off Women's History Month by hosting a special kind of performance in the Reverb studio. The resulting "Unmanned Mission" video showcased the band Neptune's Core—composed of two pairs of sisters—playing their song "Drowning" using a rig of gear exclusively built by women builders.
Over the next few weeks, we'll be talking with several of these excellent builders to learn more about their brands and why and how they make the gear they make. To kick things off, we had the pleasure of speaking with Leila Sidi of TunaTone Instruments—the maker behind the adorable Tulip bass guitar featured in the video.
TunaTone Instruments
Tulip Bass
Buy Now on Reverb
Leila has been building guitars for nearly eight years now out of Edmonton, Canada—but her journey to becoming a guitar builder is different than most. While working as an occupational therapist, Leila enrolled in a government-sponsored program that supports introducing women into trades.
To graduate, students had to complete a two-week work-study experience, so Leila began a woodworking apprenticeship with a local furniture builder in her community. She took to woodworking quickly, and while in the shop, met shopmate and acoustic guitar luthier Dion James (Dion Guitars), who agreed to mentor her in building a guitar.
Initially, this was just a ploy to both learn something new and get to stick around the shop at which she'd grown so fond of spending her days. But by the time that first build was completed, Leila had unlocked a staying passion for making instruments that quickly carried into the creation of her brand, TunaTone Instruments.
Rather than approaching the art of guitar-building from more of the functional side as a player might, Leila, with her occupational therapy background, was first attracted to the form—not only the beauty but the ergonomics of the instrument.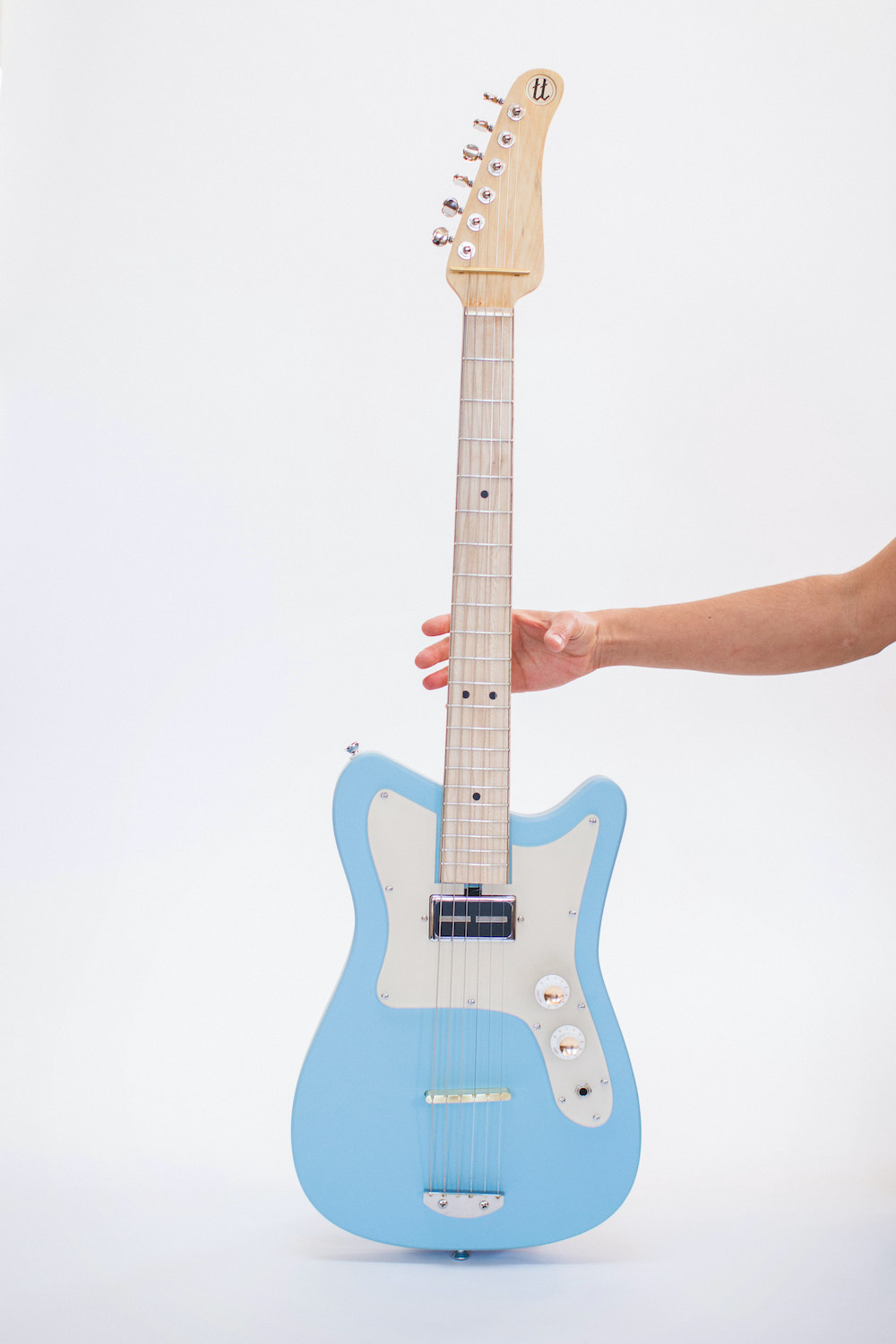 TeenyTuna. Photo by Jessica Fern Facette.
She specifically became invested in the pursuit of building high-quality, beautiful guitars that are lighter-weight and more accessible for players with smaller bodies and smaller hands. That first build with Dion—a replica of a short-scale '70s Fender Musicmaster Bass owned by Leila's bassist friend—helped inspire that pursuit.
In studying the Musicmaster, Leila learned firsthand how quality corners are often cut in the building process of these smaller "student model" instruments. Though making some concessions in build and materials helps keep these models affordable for the beginners and children they're usually marketed toward, not every player attracted to the smaller form factor is a student who is going to outgrow it.
Many women and other smaller people find lightweight, short-scale models inherently easier and more comfortable to play for longer periods of time than full-scale, nine- to 12-pound instruments. Unfortunately, opting for a more comfortable playing experience can sometimes mean settling for a guitar that wasn't designed for more a professional player.
TunaTone's mission is to eliminate that sacrifice and give players both a gorgeous, high-quality, and well-made guitar that's also exceedingly comfortable for smaller-bodied people to play.
The flagship TeenyTuna guitar features a short and easily playable 24.75-inch scale length, and players can choose walnut, maple or fir for the neck material. The mid-century-inspired solidbody comes in either spruce or popular—two lightweight but beautifully resonant woods that help keep the total weight of the instrument down to around six pounds.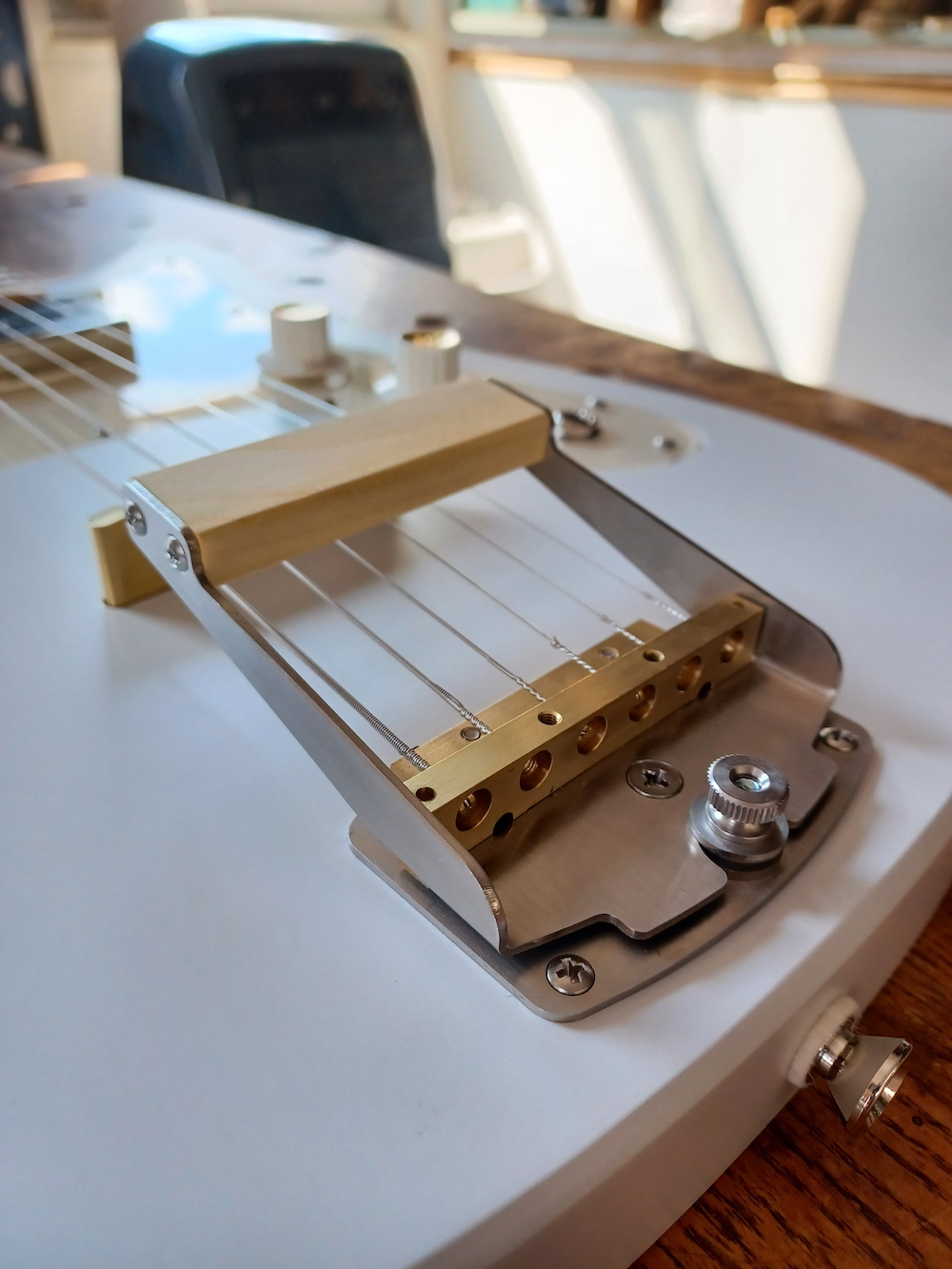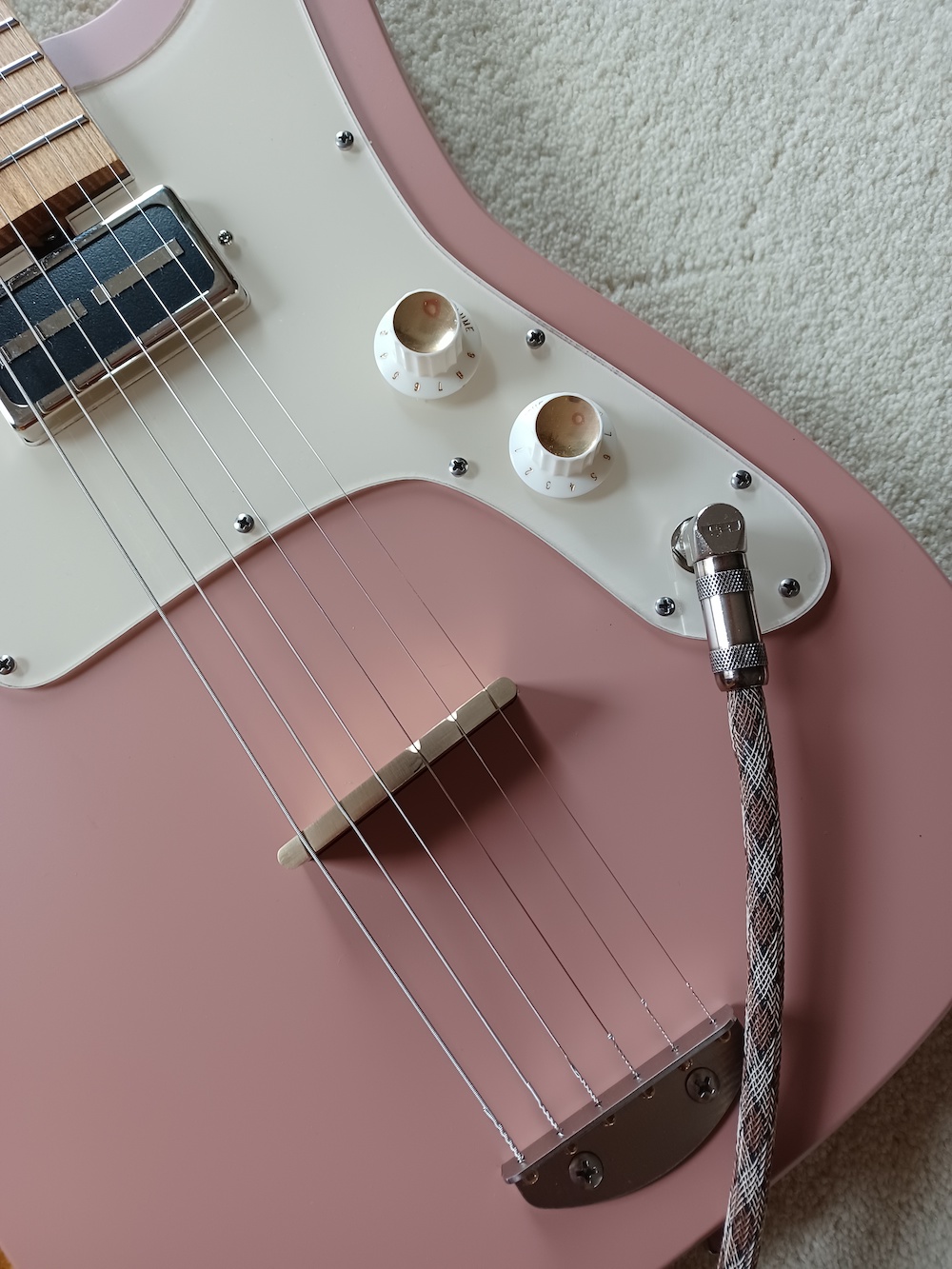 TunaTone TeenyTuna
Other features of the TeenyTone include a dual action truss rod handmade by Mark Blanchard, Roadhouse Duo-mar single-coil pickup, height-adjustable brass blade saddle, captured brass nut, and a custom stainless steel neck plate and tailpiece. Players can also upgrade the standard TeenyTone to include the palm accentuated vibrato system, designed by Max Hiedemann of Hiedemann Instruments.
The Tulip bass guitar is the most recent addition to the TunaTone lineup and is the first bass guitar that the brand is offering. In fact, the Tulip seen in the Unmanned Mission video (and available on Reverb right now) is a prototype of the newly offered model that wasn't initially intended for sale.
This particular Tulip features a 30-inch scale length on a flame maple neck with an Indian rosewood fingerboard. It's married a poplar solid body, outfitted with the only Roadhouse Duo Mar Split-Coil pickup ever made. Stunningly, this bass guitar also only weighs about six pounds.

TunaTone Tulip
TunaTone instruments are not just designed thoughtfully and intentionally, they're also made with conscientiously sourced materials. Leila sources wood in Canada, from a friend who runs a sawmill in Chilliwack, British Columbia. They catch up on the phone every few months, talk about wood, and share stories.
In fact, Leila has formed close and friendly working relationships with several members of both her local community and the larger guitar-building community that have played major roles in the TunaTune journey.
Leila has been sourcing Roadhouse pickups since the brand's inception and has become friends with pickup maker and builder Ken through the process. Although he'd been shrinking his pickup-winding operation for quite a while, he continued to wind pickups for Leila and has even graciously shared with her details about how his pickups are made so that she can replicate them on her own down the line.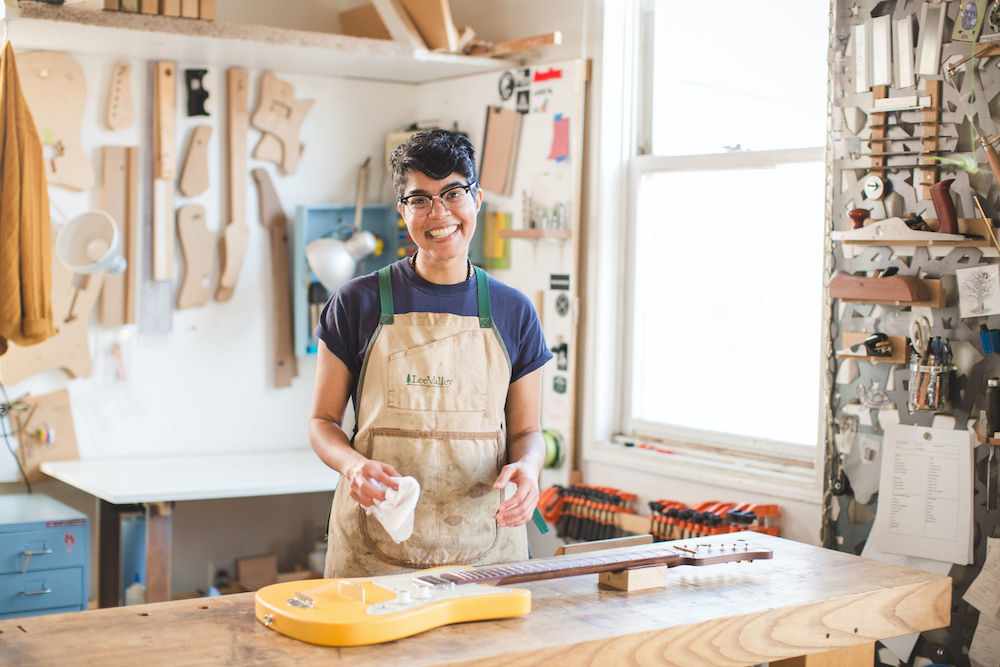 Leila Sidi. Photo by Jessica Fern Facette.
Woven into each thread of TunaTone Instruments is an ethos of community. While not a traditional player-turned-builder—or even, initially, a woodworker—Leila formed meaningful relationships with talented and giving members of her community who helped facilitate and reveal her passion.
The community has made space for her, and in turn, Leila's TunaTone brand stands for doing the same—thoughtfully crafting instruments for the kinds of players the industry hasn't always served directly.
Guitar-playing is for everybody—and every body. Kind of like finding a unicorn jacket at a secondhand store that feels like it was made specifically for you, what could be better than an instrument that just fits?
Unmanned Mission
From circuitry to studio to the global stage, women are building a more musical future, and we're here to celebrate.
Learn More