When Curt Malouin launched Red Panda in 2009, he started with a list of 60 pedals he wanted to make. On that list was a granular synthesis pedal that would eventually become the Red Panda Particle, released two years later in 2011.
The Particle was the first of its kind in the then-unexplored area of granular delay pedals. It works by dividing your incoming audio signal into grains (or "particles") that are all digitally manipulated independently from one another—time and pitch shifting, delay, reverse playback, phase manipulation, etc.—to create new and unique sounds.
---
Get the Red Panda Particle 2 OG, exclusively on Reverb.
---
A long 19 months went into the design and build of this groundbreaking effect before the first batch went up for sale. Malouin started by buying some development boards and writing a real-time granular synth on five DSP chips: the DSP56K, SHARC, SigmaDSP, ARM Cortex-M4, and the ultimately chosen Spin FV-1. "The reasons I ultimately chose the FV-1 over the ARM chip were practical," Malouin writes. "It allowed me to spend my limited free time on DSP code, not all of the glue code needed to build a more complex DSP-based product."
Malouin found that the FV-1—designed by Keith Barr of MXR and Alesis—is similar to the custom DSP chips used in the Alesis reverbs. "In 2010, the only pedal I could find that used the FV-1 was the Electro-Harmonix Holy Stain," he writes. "The Earthquaker Devices Dispatch Master came out a few months before the Particle, and the Rainbow Machine came out a few months after the Particle. In the years that followed, the FV-1 was the engine for the boutique pedal industry's shift to DSP-based effects."
The Spin FV-1 did provide its own unique set of challenges for Malouin, however. One challenge is that it was too slow for granular synthesis, which meant simplifying the design down to a delay with granular pitch-shfiting, random delay, and time-stretching. "I spent the rest of summer 2010 tweaking the controls and prototyping different modes," he writes. "The FV-1 only has three pot inputs, so the blend and feedback were analog. In August 2010, I added the threshold-triggered freeze. Sometime around September, I came up with the name Particle."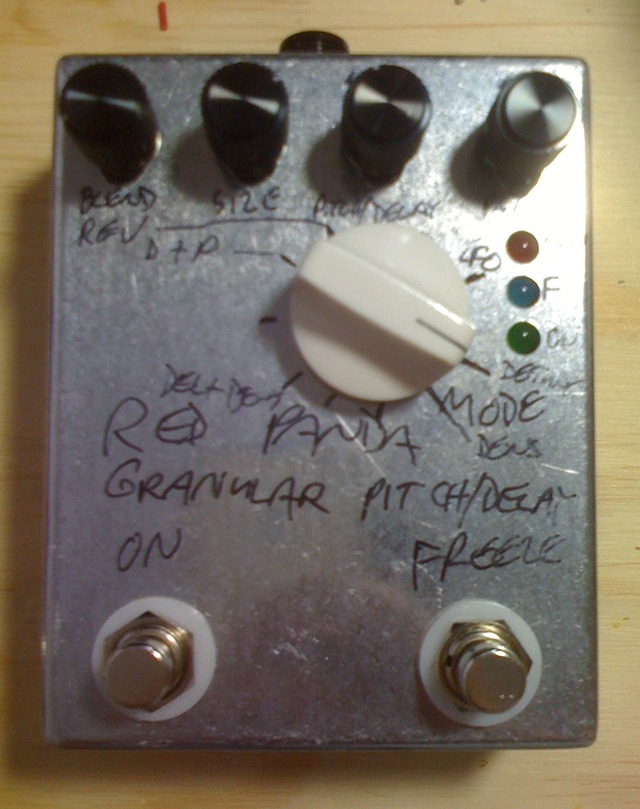 January 2011 Particle prototype.
Malouin built three PCB prototypes in the following months in the sparse time he had outside of his demanding full-time software engineering job. In January 2011, he cracked the code to reverse delay. "The FV-1 implements modulo delay line addressing using a counter that decrements by one each sample. That is nice, because for simple delay effects you just set the delay length and don't have to work about managing the pointer and doing modulo addressing," he writes.
"To play the delay line in reverse, you can manually update the address pointer and add two each sample, negating the auto decrement. That simple idea came to me on one of my lunchtime walks around the industrial park where I worked. I tried it out the next weekend and it sounded great—different from a typical reverse delay because of the granular slicing, with each slice played forward or reverse based on probability."
January 2011 was also the month Malouin built the first Particle prototype in pedal form, which was capable of freeze, stutter, random, reverse, and pitch-shifted delays—all features that are now common in granular delay effects.
Progress on the pedal throughout the following months was slow, hindered by Malouin's demanding work schedule. He ordered parts and was eventually able to build five Particles for beta testing by the end of July. After several more months of tweaking and refinement, the Particle was for sale on the Red Panda website starting November 28, 2011—19 months after the design started. Fast-forward to April 2012, and Malouin gave notice at his day job to dedicate his full time to working on Red Panda projects, including building the second batch of Particles.
Over the last 12 years, this effect has been a steadfast favorite of modulation enthusiasts. It has not only inspired a slew of other builders to try creating their own granular synth circuits, but has also itself been iterated on after collecting years of players' feedback.
The redesigned Red Panda Particle 2 was first introduced at the NAMM show in 2019 and has since received a couple of feature-enriching firmware updates. The most recent 2.2 version is now available to download on Red Panda's website, with Red Panda noting that it's the biggest update to the Particle since the V2 redesign was initially released a few years ago. Briefly, the new update adds features like:
Stereo panning
Improved preset management
New pitch modes, including seven pitch quantization modes like free, semitones, octaves, octaves and fifths, and more
New feedback modes
Expert mode (replacing the previous "Modeless" setting)
Updated web editor and TouchOSC layout
In celebration of 10 years of the Particle, Red Panda had planned to release a small, exclusive batch of limited edition colorway Particle 2 pedals. But with the pandemic and ensuing supply chain issues, this release had been delayed—until now.
The new special translucent finish of this limited edition Particle 2 references both graphics from the original batch of 25 Particles built in 2011 as well as the popular custom ghost black finish that V1 pedals were available in for a time. Supplies are limited to just 250 units, so be sure to snag one while you still can.
"This article is part of a paid partnership with Red Panda. From time to time, Reverb partners with trusted brands and manufacturers to highlight some of our favorite products we think our community will love."