"Archtop guitars, in history, were directly associated with the music that was being made on them," says John Monteleone, and mostly that music was jazz. That in turn led some people to refer to archtops as jazz guitars. "I hated that idea of restricting them just to one genre of music. It wasn't fair to the instruments."
John celebrates this year his 50th anniversary of building musical instruments. He's been closely allied to the changes the archtop guitar has gone through during that time, and his instruments—mandolins and flattops as well—are today highly praised and highly valued.
It all began professionally in the early '70s when John became a repairer at the bustling Mandolin Bros store on Staten Island, NY. He soon set up on his own at his first workshop, at Bay Shore on Long Island, later moving a mile or two to his current location in Islip. And the musicians who come there these days to visit and play and talk are generally looking far and wide for inspiration, largely ignoring any restrictions of genre or style.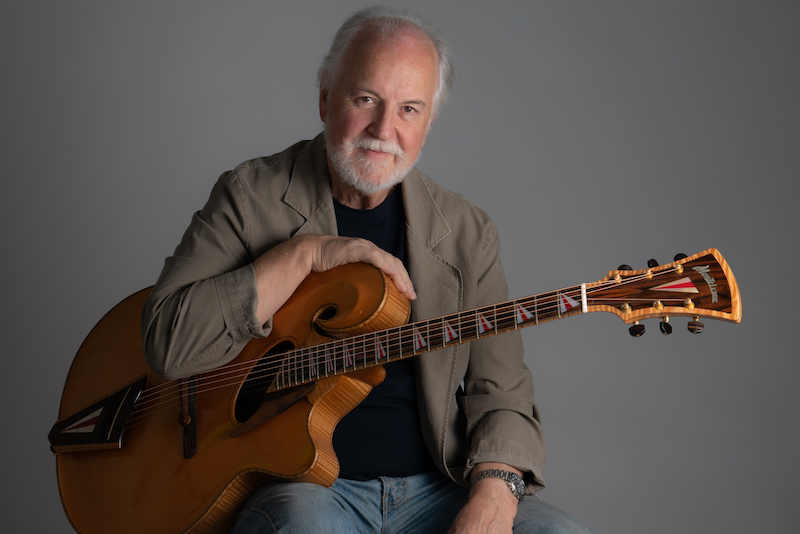 John Monteleone. Photo by Rod Franklin.
"Today's musicians like to move around in various forms of music, and I much prefer that idea," he says, "I think they're looking for instruments with a little more versatility, a bit more sensitivity, especially the fingerstyle player who might want to play the archtop." Like any good maker, he's listened carefully to the things that players want and has developed his guitars accordingly.
"One of the sensitivities I figured I could address in the building of the instrument was the tonal balance. By that I mean its ability to be as sensitive to touch as possible but still able to bear the necessary 'force' of playing. So this guitar could be a rhythm instrument, a solo instrument, it could be lyrical, it could be harmonically balanced."
The key was the bridge, he found. "The bridge system on an archtop guitar is often overlooked," he says, but this is the first thing he considers. "It all begins there. The challenge is to capture as much tonal information as possible—that input from the strings—and then to find a way to distribute it down through the bridge, into and across the top, and in a way that provides the most efficient distribution of tonal information. When I carve, that's what I have in my mind."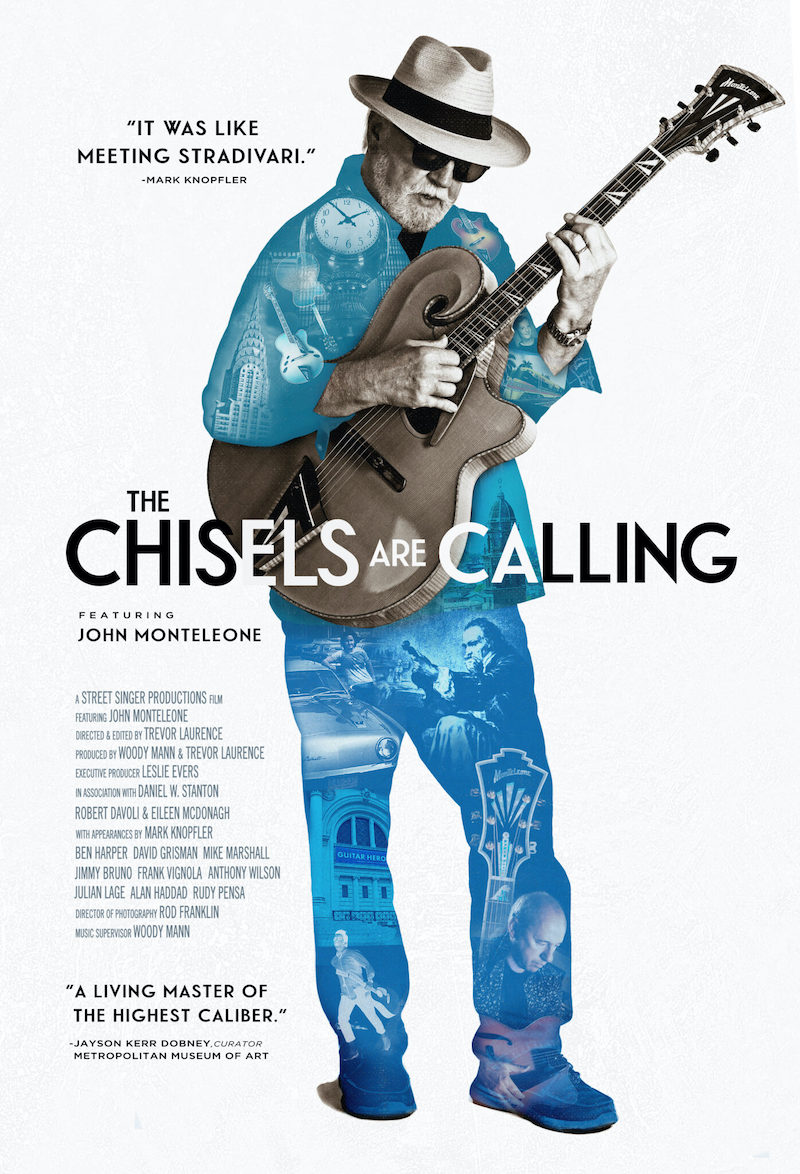 The Chisels Are Calling poster.
In The Chisels Are Calling, director Trevor Laurence's absorbing new documentary about John and his work and the musicians who play his instruments, guitarist Mike Marshall calls the relationship between player and maker a two-way street, because each influences the other. It's something John is well aware of. "I felt for a number of years that guitarists had ideas and desires that were not necessarily met in a musical instrument."
During the mid '90s, he began to think seriously about an idea that first occurred to him back when, at 14 years old, he couldn't afford the Martin flattop he wanted. So he decided to make a guitar himself. "And if I laid my ear directly on the side of that guitar, I was hearing something that I could not hear otherwise. The challenge was: How do I get that? How do I make that happen?"
The answer came with his Side-Sound system. Simply put, this is a soundhole or soundholes in the guitar's side, with suitably modified construction. John reckons this allows the player to be more directly in line with the projection of sound from an instrument, and he first tried it practically on a 1995 prototype Monteleone Rocket Convertible (which made its way to collector Scott Chinery's Blue Guitar series). That instrument had three soundholes: two on the top side, one in the regular front position, and all with adjustable shutters so that John could judge their interactive effect.
"A lot of archtop guitarists," he says, "would lean over their instrument to hear a little bit more of what the audience was hearing, because those guitars project so well out front, whereas a round-hole flattop guitar projects in a different way, more like it's surrounding the musician, and it's a little bit easier to hear that. The main objective with that prototype guitar was to make it successful directly with the musician, and then the secondary challenge was how was it going to sound to the audience, out front. I learned that it was successful in both directions." Side-Sound is now a feature of many of his instruments (and a registered trademark).
Photo by Vincent Ricardel.
But how much is one of his guitars worth? It's a subject that John avoids talking about too much. When I mention, for example, that I've just seen a dealer advertising a new 2022 Monteleone Radio Flyer Deluxe for a staggering $150,000, he says it's a matter of what the market will bear.
"Value is a funny thing," he adds. "I'm not an expert at explaining market values, but I listen to what's going on out there and I try to fit myself into a place I feel is justified and comfortable for the musician or the collector. I do try to make them affordable to whatever degree it works out for. But, you know, when I'm building, I don't think about any of that. I'm thinking about the instrument on my workbench. That's all."
Some of the value attached to John's instruments seems to come from the way that many of them are not only remarkable musical instruments, they're also art objects. He refers to this as his artistic vein of guitar building—what you and I might call a great-looking instrument. Especially if you appreciate Art Deco. There is some outstanding New York-inspired Deco on display in some of his guitars—check out for example the Radio City, or the Super Chief—and there is a strong demand for his customizing skills.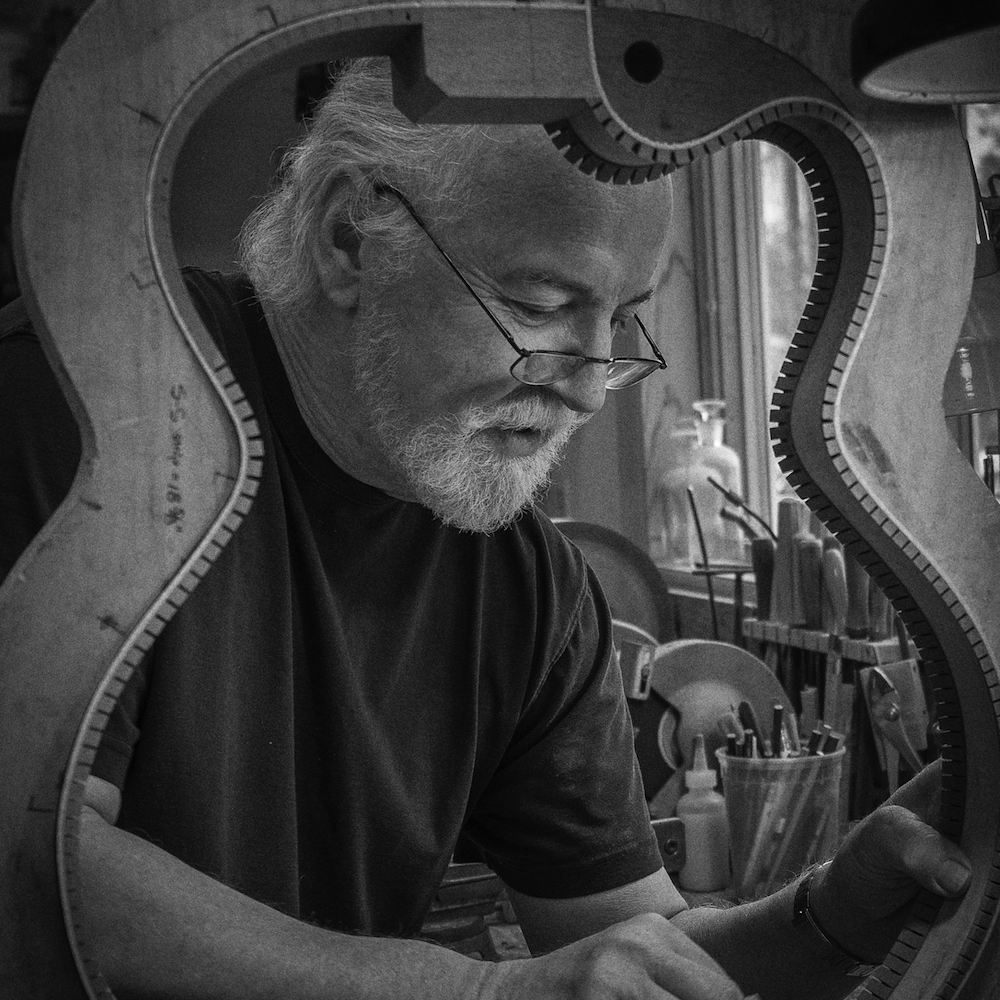 Photo by Rod Franklin.
He feels that the art of a guitar itself can be in harmony with the art of the guitarist playing it. "With guitars, mandolins, banjos, all these fretted acoustic instruments—and electrics too, I have to add—there is of course a connection, a very personal connection, between musicians and their instruments. And while they will play them to enjoy them, to give the expression that comes from within their soul, they will also, in between times, tend to sit down and look at the thing. And maybe they notice that, hey, there are some beautiful woods, or this pearl here is really magical—all these little details that I guess reinforce that idea of what the instrument really does for them."
One of the reasons John began to build thematically, with these artistic touches, is because it makes his craft more expressive for him, more personal. "It's a way that I can exercise my artistic ideas. And by the way, ideas are easy," he says with a smile. "Ideas are really easy—it's bringing them to fruition that is the great challenge at hand."
There's at least a three-year waiting list for new orders, and with John now in his mid 70s, he views the ideas-packed future with mixed feelings. "There's so many things still to do, but so little time to do them," he says. "There's way more to do. Thankfully, I don't have to punch out the exact same guitar every time, repetitively. I'm not a production-oriented kind of guy, and that's why I work alone. And because I work alone, I'm able to take an idea and play around with it and see what can come of it. There's still so much fun and reward in doing that."
John said once that the archtop guitar is the most romanticized and most mysterious of all guitars. Is that still true? He pauses, thinks for a moment, then replies: "In a way, yes, because there's certainly a beautiful form to look at. Well, let's say it can be a beautiful design form. And that can lend to some of the mystery of it, as well. I think for a long time the archtop guitar was a little misunderstood, and it was bumped into the closet, certainly by the electric guitar in the '50s and '60s. So it fell out of favor until it became vintage—and then it became collectable."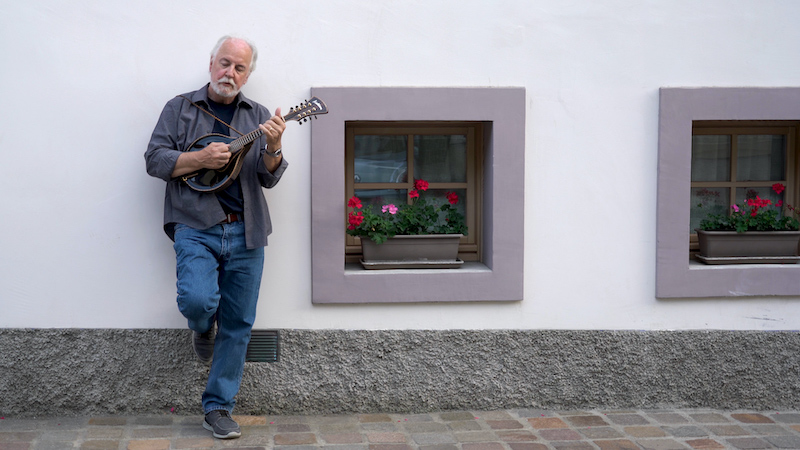 Fashion twisted yet again, as it always does. "Then it began to be picked up by certain people, like when Neil Young and some others were trying out D'Angelicos and a few things. And I think the archtop guitar is still quite a magical instrument that appeals to musicians—Clapton has used archtops, Knopfler has used them, even Ricky Skaggs had an archtop in his band for a while."
But enough of the back story. "I'm interested in what this guitar is going to bring you today," John concludes. "You pick it up, you noodle around on it—and the guitar begins to talk to you."
You can watch John Monteleone: The Chisels Are Calling at Amazon Video, Apple TV, Google Play, Vudu, and YouTube. A physical release is planned for later this year.
---
About the author: Tony Bacon writes about musical instruments, musicians, and music. His books include History Of The American Guitar and Electric Guitars: Design & Invention. Tony lives in Bristol, England. More info at tonybacon.co.uk.